Logitech is a Swiss manufacturer of computer equipment and software. The brand develops and markets personal peripherals for PC navigation, video communication and collaboration, music and smart homes. This includes products like keyboards, mice, tablet accessories, webcams, Bluetooth speakers, universal remotes and more. Its name is derived from logiciel, the French word for software.
Logitech was founded in Switzerland, in 1981 by Daniel Borel and Pierluigi Zappacosta, and former Olivetti engineer Giacomo Marini. The company evaluates potential environmental impacts at every stage of product development. From material and design choices, to manufacturing, customer satisfaction and end-of-life recycling, Logitech cares about climate by recycled plastics, responsible packaging, carbon clarity, responsible production and more.
You can find here several ways how to save money on Logitech. The best way to not miss any Logitech discounts is to subscribe to Logitech newsletter where special offers are announced in advance. Time to time, you can also find interesting offers on Logitech official online store. Or simply visit this Kodino website where you can find current Logitech discount codes and discount coupons.
Where to buy Logitech cheap
The best option where to buy Logitech personal computer, new tablet, PC equipment and many more, is on Logitech official e-shop. You will find there the widest range of Logitech products to choose from. You can also visit physical Logitech authorized retailers all around Canada. You just have to find the store that best suits your geographical location.
There are also 3rd party stores, where you can buy Logitech items. For example, on Amazon you have an exclusive selection of Logitech mices, webcams and more at your disposal, while you can enjoy not just great prices but also free and fast shipping. You have free shipping also on Aliexpress. You can buy Logitech products for low prices also on eBay, Walmart and others. We provide discount coupons for every of these stores mentioned above. If you're not shopping on Logitech official e-shop, just find the specific store's discount code and apply it on Logitech product.
How to get Logitech discount coupon
There are several opportunities to save money on Logitech products. All of the stores mentioned above offer discount codes, you just have to choose to apply them on Logitech products. You can enjoy special offers such as Black Friday promotion, Cyber Monday, Christmas Sale and others. Moreover, by subscribing to Logitech newsletter on Logitech official store you can enjoy many exclusive offers.
If you wish to find all the newest Logitech discount codes and Logitech discount coupons, do not forget to visit our Kodino website every time you want to shop for Logitech. You can find Logitech discount codes also under the specific stores such as are mentioned above. Checking Kodino is the most comfortable way to get your unique coupon every day.
How to use Logitech discount code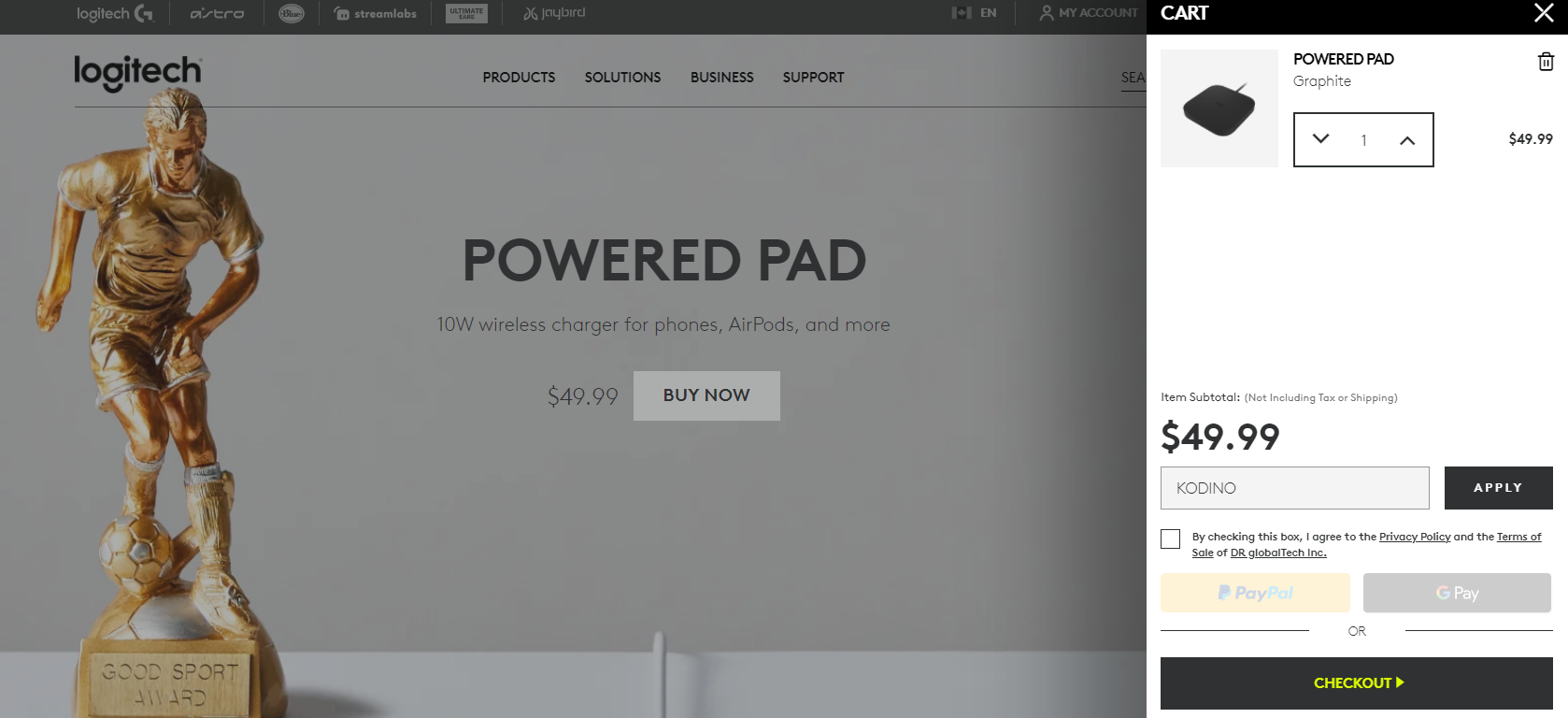 If you do not know how to use a discount code in Logitech, do not worry, using Logitech discount codes is simple. If you do not have any yet, you can find one on Kodino. In case your promotional code does not work, it may be no longer valid due to the expiration of the period for which it was configured. However, on Kodino you can find new discount codes quickly and easily so you can get the maximum savings on your purchases.
After your shopping, you can enter your Logitech discount coupon in the Cart of the eshop on the right, there is a field to enter the Logitech discount code. Do not forget to confirm the code by apply button. The discount will be immediately subtracted from the purchase price.
Cashback Logitech
Cashback is a great way of saving money. Thanks to cashback portals you can get a specific percentage of the money back from your online purchase onto the cashback portal. Then it is just your choice if you want to withdraw it or use it on other purchases.
Therefore, to get cashback at Logitech, you will have to go to online cashback services. On TopCashback you can get up to amazing 10% of  your purchase price back, with Shopperarmy via Walmart up to 1% and on Rakuten with AliExpress up to amazing 2,75%. Or you can apply for cashback on Logitech products also via other 3rd party stores. Complete a simple registration and sign up on one of cashback portals. Clicking on a link of a retailer from the list on the cashback portal will take you to that retailer's site where you can complete your shopping as usual. In some time after the purchase the promised money will be paid back to you.
Logitech discounts – sales, outlet…
The most of Logitech discounts are available when they change their seasonal collection. Time to time you can find special offers on their social networks such as Logitech Black Friday, Cyber Monday, Christmas Sale, Seasonal Sales and more. Create an Logitech account to get rewarded and subscribe to a newsletter where new offers, special deals and many more are announced in advance.
Looking for more opportunities to save money? You can always visit Kodino where you will find many Logitech discount coupons and codes. It is the best way to not miss any special offer, have all Logitech offers at one place and find the product you are looking for at an affordable price.
Logitech free shipping and shipping costs
Logitech offers free Standard Shipping on all orders over $49 purchased on logitech.com. The cost of shipping your package will be determined by the pre-tax, post-discount value of your order. The shipping costs and delivery times depend on preferred shipping option:
Standard Shipping  (4-7 business days)
Express Shipping (2-3 business days)
If you logged in or created an account during checkout, you can look up your order and view your shipment tracking information in your account. If you used guest check out, please look up your order and view your shipment tracking information Look Up Your Order section. Once your order ships, you should also receive a shipment confirmation email with shipment tracking information.
Logitech return policy
If you want to return your product, the Logitech Return Policy gives you 30 days to do so. So, you have 30 days from the date of purchase to return your product to the store for a refund or even exchange. If you need to return a product purchased on Logitech.com within the 30-day return policy, please contact Customer Service. The return policy gives you two modes to return your item, in-store, or online.
The refund will include the purchase price and original shipping and handling charges if applicable. Engraved orders are not eligible for refunds or exchange. Your refund credit will appear on your account within 3 weeks of us receiving your returned product. Open box items carry a limited 30-day refund-only policy (no exchanges). The refund will include the purchase price and original shipping and handling charges if applicable.
Logitech warranty 2023
Logitech's goal is to provide you with the best service possible. The store stands behind their products and aim to make the situation right. The Logitech limited hardware warranty coverage varies by product. Refer to the packaging or documentation of the product you purchased to determine the warranty's length of time that applies. You may also find this information by selecting your product in the Online Support section at logitech.com.
Logitech refurbished products are physical items which have been returned to Logitech for testing, inspection, and repair by certified technicians. Please note that some refurbished items may have dents, scratches, or other slight signs of wear. Logitech refurbished products carry a 90-day warranty and a limited 30-day return policy. The refund will include the purchase price and original shipping and handling charges if applicable.