MyHeritage review: We tested our DNA (discount code)
Two quarters of my ancestors come from East Europe and approximately ten percent comes from Iberian Peninsula. However, some of my distant relatives come from Canada, Balkan and Italy (Ciao, Francesco!). This was revealed by an ancestry and ethnicity genetic test I've ordered online. It was painless and it didn't cost a fortune either.
How MyHeritage DNA test works
MyHeritage DNA test analyzes your ancestral roots in great depth. The company's DNA matching technology helps you to find new relatives you never knew existed thanks to hundred millions of people around the globe who tested their DNA with MyHeritage. They've ordered the MyHeritage DNA test kit for $63€59 or they had an opportunity to try it for free as a part of MyHeritage research program.
We've also ordered MyHeritage DNA test and here is our review.
How to order MyHeritage DNA test + discount code
You can order the DNA test kit online at MyHeritage.com for $85€79. They also offer great discount, that way you can purchase it for just $63€59. Standard shipping takes around 4-7 business days and it costs $9.66€9 or you can pay $20.39€19 and get it within 1-2 business days.
Make sure to check out Kodino for MyHeritage discount before placing your order. Alternatively, you can add your product to shopping cart but do not submit your order. After few days you will receive free shipping.
It's worth mentioning that it's easy to "Add MyHeritage Complete Plan" to your order at checkout. First month will be free but next month will cost you $129€120 for a yearly subscription plan. You can save extra money by unticking this option but unfortunately you won't be able to view matches and ethnicities you share with your DNA matches.
You can pay for your order by credit card, PayPal, bank or wire transfer.
We ordered DNA kit on Monday and the package arrived within one week. The DNA kit comes in well-designed rectangular box. Inside, you will find an 8-step instruction booklet, two cotton cheek swabs, two vials for your samples, plastic bag with cotton pad inside, pre-addressed envelope for sending samples back to MyHeritage and an activation card.
Guide: How to activate MyHeritage DNA kit
Activation of DNA kit is simple. You can do it online by visiting the link on the back of the activation card. Just enter your activation code with your details. It takes only two minutes.
Taking a DNA test doesn't hurt and there is no blood or spit necessary. All you need to do is take one of the cheek swabs and scrape the inside of one of your cheeks while rotating swab for 30-60 seconds. Take a cotton swab, insert it in the vial and seal. Repeat the same process with the other swab on your other cheek.
For the best results, MyHeritage recommends no eating, drinking or smoking for 30 minutes before collecting your sample. The best time to do the test is in the morning, right after you wake up. Place both vials inside the plastic bag, resting on top of the cotton pad. Close the ziplock, place it to the enclosed envelope. Seal the envelope and mail it to Huston on your own expenses.
Your results will be ready and sent to you in 3-4 weeks once DNA lab receives your samples. You can also check the status of your samples online. Once the results are ready, MyHeritage will send you an email saying you can view your results online.
What can MyHeritage DNA test reveal
MyHeritage DNA reveals your ancestors' origins from among 42 different ethnicities including Scottish, Irish and Welsh, Italian, Japanese and many others.
My DNA test revealed that I'm 67.1% East European, 8.7% Balkan, 13.6% Northwestern European and 10.6% Iberian. The results are visualized on map.
It's fascinating that MyHeritage enhance the lives of users all around the world, that partially shares the same DNA. This and much more is available for Premium users. In my case, the biggest DNA match: 0.6% with the longest segment: 43.7 cm, belongs to 50-59 years old Elena Väisänen from Finland. I guess she could be my third, fourth or fifth cousin.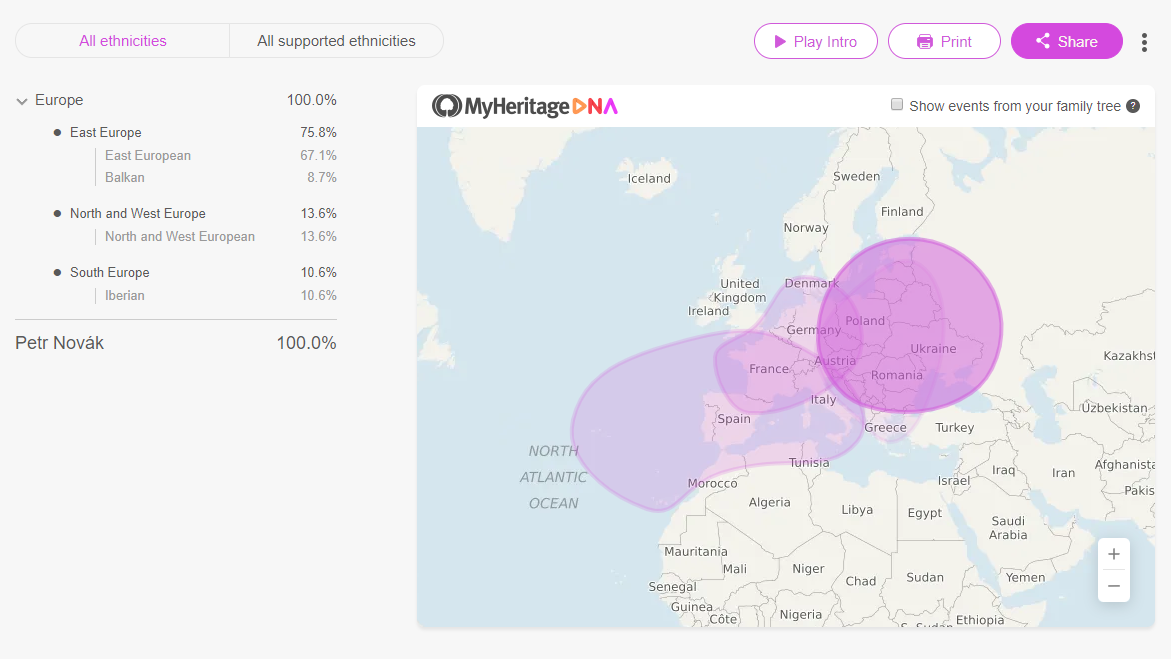 Overall, MyHeritage revealed 2 586 DNA matches from people around the world. The results are distorted by fact that DNA tests were mostly made by people from developed countries. The DNA match doesn't have to prove that you found your relative though. But that doesn't change the fact that you can contact that person or look into his or her family tree.
How accurate is MyHeritage DNA test?
As MyHeritage states on their website, the results are your DNA ancestry estimates only.
I compared my results to my family tree that was generated up to beginning of the 18th century. According to my family tree all my relatives come from Austrian Alps which corresponds to my 67.1% Eastern Europe origin.
Ordering at least two more DNA kits for additional family members is recommended as you can increase the results accuracy. Test both of your parents or order even more to test your grandparents from both sides.
Once these DNA tests are done, it will be more obvious from what ethnicity and region your family comes from. We recommend combining MyHeritage DNA test with creating your family tree. MyHeritage can access over 3.5 billion historical records so don't worry, you don't really have to know all your relatives.
Pros and cons of MyHeritage DNA test
MyHeritage discount


Discount on MyHeritage DNA kit is available all the time. Instead of $85

€79

you only pay $63

€59

. If you don't submit order and keep it in your shopping basket, after few days you will receive free delivery.
Well designed website
Website supports 42 languages and you can easily navigate through it. After logging in, you can even upload your relative's DNA for free.
Money back guarantee
If you're not satisfied with your purchased plan MyHeritage offers a 30-day money back guarantee.

MyHeritage force you the subscription


When ordering DNA kit, MyHeritage PremiumPlus is automatically included.
How to get a refund for MyHeritage subscription
Like I mentioned before, MyHeritage PremiumPlus Plan is automatically included in your order. If you don't tick off this option, after your first free month you will be charged $129€120. This happened to me.
Fortunately, MyHeritage values the satisfaction of their customers and offers a 30 days money back guarantee. You can deactivate the subscription on their website by clicking on your Name » My purchases or call +1 385 313 9758 and aks for a refund. Alternatively, you can use Skype to save some extra money.