Rosewe is an online store bringing fresh new street style fashion since 2009. Apart from apparel such as dresses, tops, sweaters, coats, and more, they offer also jewelry and home decor. You can shop by categories like new, bottoms, sportswear, swimwear, or curve+plus size, there is a lot to choose from. Their fashion designers develop their own styles providing you the high-street fashion at a much lower price. They grew to become an international retailer.
Learn all the ways how to save at Rosewe by reading our article below. One way is to always look on the Kodino website to see if there are any Rosewe discount coupons available. Save money and buy fresh new fashion at Rosewe.
How to get Rosewe discount code
Wondering how to get a Rosewe discount code? The answer is easy, just find one on Kodino. On our website, you'll find many available Rosewe discount coupons that you can use to save at the Rosewe e-shop. Some Rosewe discount codes are for example save 60% off on summer clearance or sign up and get
How to use Rosewe discount code
Your active Rosewe discount code can be filled in during the checkout. View your shopping cart and make sure everything you want to buy is there, click to continue to checkout, and then type in your contact information and shipping address. On the right side, there will be a box called "your order" where you can apply your Rosewe discount coupon. After that, you're free to continue and place the order.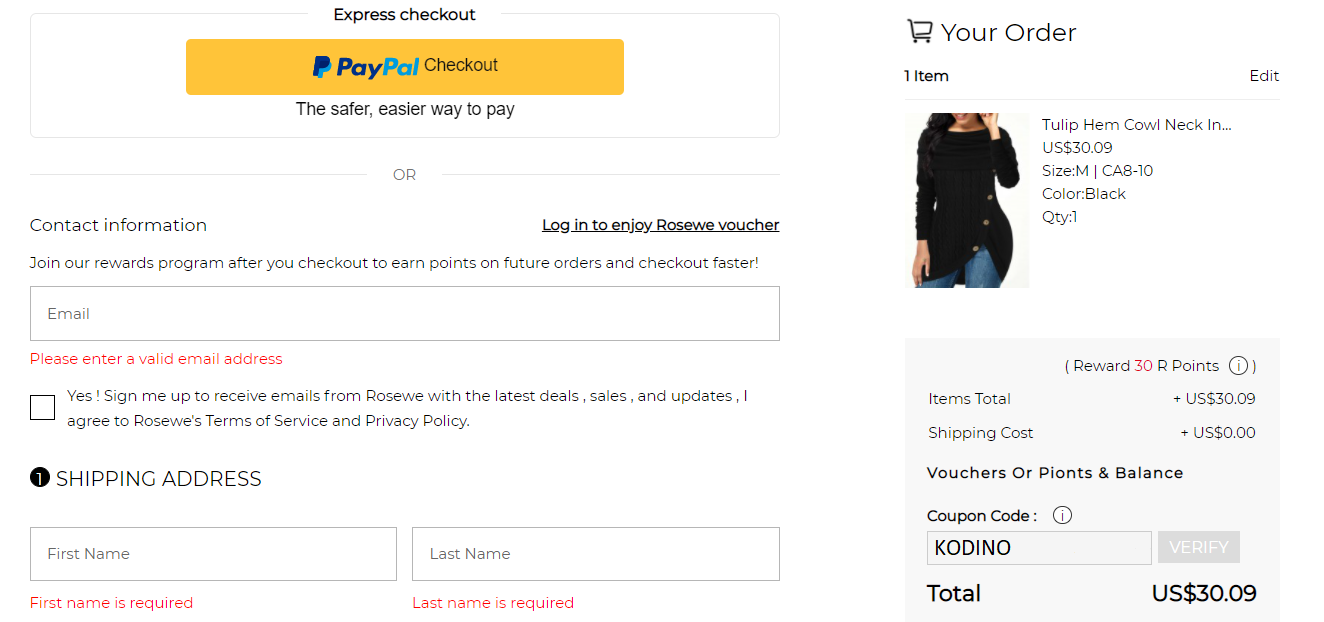 Rosewe Cashback
Take advantage of Rosewe cashback deals to save money on Rosewe e-shop. You can earn money back from your every purchase at Rosewe just by registering at one of the cashback portals which offer the store's cashback. Thanks to Swagbucks and Topcashback portals you can now get up to 19.8% of the money you spend on your order back. Don't wait up and start saving with Rosewe cashback.
Rosewe discounts – sales, offers, Black Friday…
There are many Rosewe sales available throughout the whole year. On special occasions like for example Flag Day, there are huge discounts available for every customer. We can't forget to mention Rosewe Black Friday during which you can save up to 70% off apparel, jewelry, and home decor.
Special Rosewe offers include also free gifts such as free necklace or earrings. You can always shop Rosewe clearance section and save up to 72% off.
Rosewe free shipping and shipping cost
Enjoy Rosewe free shipping on all orders of $97.65 or above. There is also an option of getting express Rosewe free delivery, you can obtain it if you make an order of $182.56 or above. Rosewe free shipping discount code will be automatically applied to your order when you meet the required conditions.
Once your order is shipped, you will receive a shipping confirmation e-mail with all the important information. There are 2 Rosewe shipping methods:
Standard shipping
Expedited shipping
Rosewe return policy
Rosewe online store offers a standard Rosewe return policy within 30 days which means that you can return your product within 30 days from receiving. All the Rosewe returns must be received in new condition. Please note that sale products, intimates, jewelry, and other specific products listed here can't be returned. You can either exchange your order or get a full refund.
Rosewe warranty 2023
Rosewe warranty, or in other words, money-back guarantee applies to almost all products purchased from the e-shop and it is the same as the Rosewe return policy within 30 days. Unfortunately, there are also some exceptions, products that are not covered by warranty, such as sale products or jewelry.
Contact Rosewe customer service by e-mail at service@rosewe.com to learn more about Rosewe warranty registration.
Rosewe contact– e-mail address, contact number
If you have any questions regarding your order or you want to ask about something else, you can contact Rosewe customer service. The most common Rosewe contact is their live chat which operates from Monday to Thursday. Another option is Rosewe e-mail address which is service@rosewe.com.
If you want to send a hand-written letter, the address is Room2087, #15-3 Building, 999 Ningqiao Road, Pudong, Shanghai, 201206, China. Note that this address doesn't serve for returns.