Modlily is an online clothing boutique with women's clothes. Get yourself a new piece of latest fashion cheaply with our tips how to save money on Modlily.
There are plenty ways to save money on Modlily. The very first one you will see is a pop-up with the new customer discount up to 10%. After closing it, you can see up-to-date seasonal discount,which differs depending on the season or a  forthcoming special occasion. Slide down the main page and you can see time limited special offers, where you can choose the item you like and get it for better price.
In the heading of the main page you can also see quantity discounts up to 20% or up to 5% discounts for new newsletters sign-ups.
Plenty of discounts and discounts codes are also announced via the Modlily social networks and you can see them also in their cover photos. If you are confused from all discount options, just check our site for an arranged summary.
How To Get a Modlily's Discount Coupon
Modlily's discount coupons are available throughout their site. Just open the site and a pop-up will appear with the new customer coupon. You can also browse the site, find your coupon and click on the "Get Now" button.  These coupons are often time limited, so do not hesitate to get them and redeem them.
A great amount of Modlily's discount coupons is also available on their social network. They are being released regardless the season or special occasions, therefore you can get them throughout the whole year.
Or simply check Kodino and get your unique coupon right now.
How To Use a Modlily's Discount Code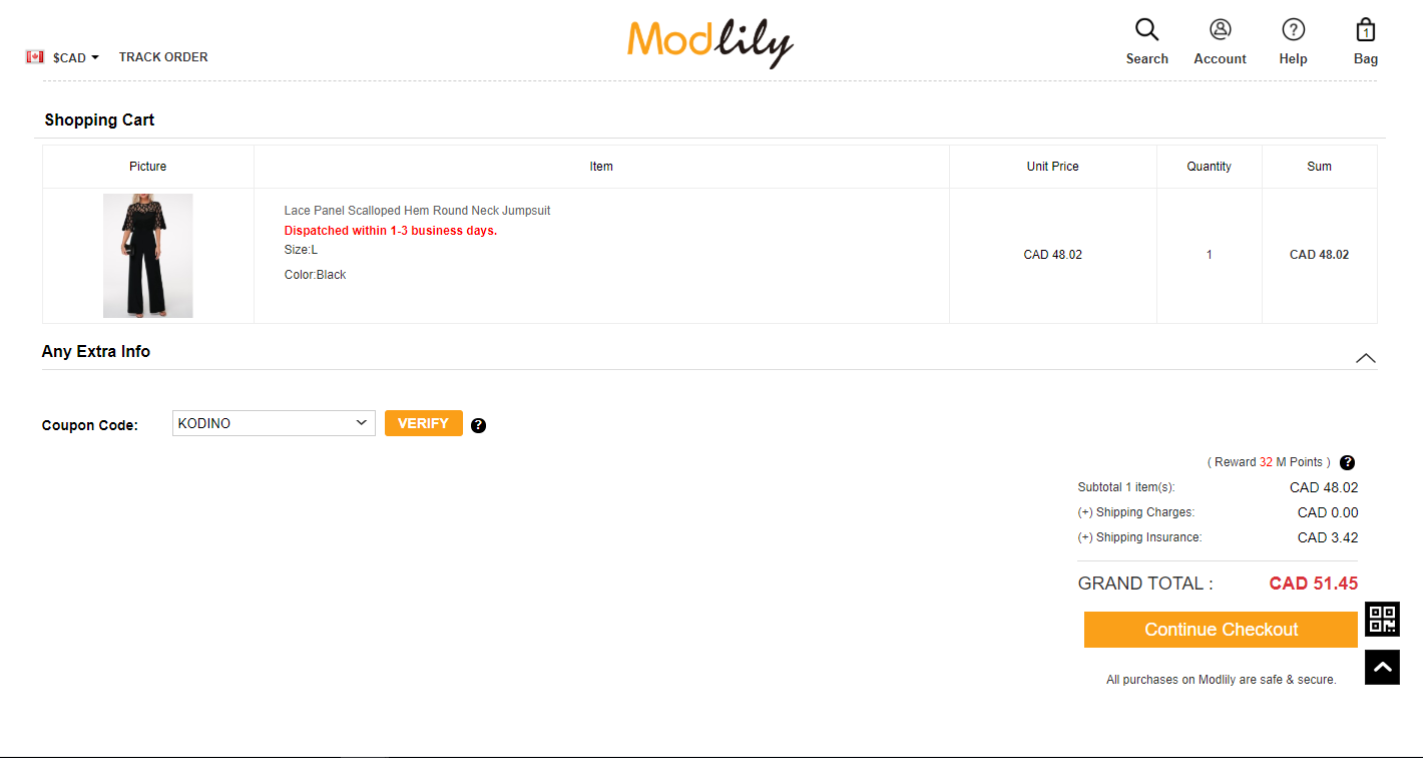 To redeem Modlily's discount code you have to put your item to the bag then you must register on the site and proceed to the checkout. Slide down the Checkout page and under the "Any Extra Info" headline you can see a field to enter your Modlily discount code. 
Once the code is entered, click on the "Verify" button and the discount will be immediately subtracted from the purchase price.
Modlily Cashback
Modlily Cashback is offered by sites like topcashback.com or rebatesme.com where you can get up to 10% off your purchase.
To get a cashback you have to register on a casback site. Then finish your purchase via one of its special links and the stated percentage ratio of the purchase price will be refunded on your account on the casback site. You can then use it for another purchase or transfer it to your bank account.
Casback is a popular type of affiliate marketing where a cashback provider offers dealer's goods on own page via special links. If a customer complete a purchase through one of these links, provider gets a commission from the dealer. Customer then earn a percentage ratio of the purchase price back to their account.
Modlily Discounts – Sales, Black Friday, Halloween
Modlily discounts are literally everywhere on the site. As stated above, first you will see the pop-up with the 10% new customer discount. Once you close the pop-up, you can see the main page with many seasonal discounts and special time limited offers, just pick one.
The seasonal offers focus on the current season or on forthcoming special occasion like Halloween Modlily, Black Friday or Christmas and are available for limited time period. Within these offers you can even get a free little gift if your order is over the stated price. Put your item to the bag and above the selected item you can see a note "You can enjoy a free gift". Point your cursor over the "View" button and choose the one you like the most.
In the heading of the site, there are quantitative discounts Modlily, you can also get new discounts on Modlily's social network, or by signing-up to their newsletter or, of course, on our site.
Modlily Free Delivery and Postage Price
Free delivery Modlily offers upon the purchase over 20$. Here are postage prices in the case that your order is under this level:
International Flat Rate Shipping – CAD 4.36
International Standard Shipping – CAD 7.27
International Expedited Shipping – CAD 14.79
Modlily Return and Refund Policy
If you are not satisfied with received product, you can use the Modlily return with which you can return it within 30 days of receipt. The product must be in a new condition and has a label with a return address.
Before you send the product back, you have to issue a ticket in the "My Orders" section of your account. Then, you will communicate with the customer service and after application approved, you can send your product back.
The Modlily refund will appear on your account within 10-20 business days.
For more information check the "Refund policy" page or contact the dealer via the contact form.
Modlily Complaints 2023
Since Modlily does not have a brick-and-mortar store, all Modlily complaints should be done via the "My Orders" section of your account or via the contact form.
Modlily Contacts – E-mail, Chat, Address
For your questions, complaints, etc., you can use one of these direct Modlily Contacts:
E-mail Modlily – service@modlily.com, live chat, or address – Room2087, #15-3 Building, 999 Ningqiao Road
Pudong, Shanghai, 201206, China (Not Return Address)
There is no Modlily infoline available at the moment.