Wish review
Wish is an E-commerce business. Wish specializes in offering vendors the opportunity to sell products while also eliminating distributor fees. As such, Wish enables customers to get quality goods by purchasing directly from the vendors who as a result can offer customers products at cheaper than usual prices.
Wish aims to offers each customer a highly personalized shopping experience with a lot of visuals as soon as the customer starts shopping. This is fantastic because not only are the prices great, but Wish also offers a high selection of goods from many different categories including fashion, technology, furniture, hobby items, tools, and more. Over the course of this article and Wish review, we will elaborate further on what other options do customers have when trying to reduce costs and save their money.
How to get Wish discount code
We would like to start by mentioning how to get Wish discount codes. A very simple starting point would be to visit the Wish website. For instance, by creating an account you can already get a Wish discount coupon granting you a 10% discount on your order. Not only that but on Wish, each purchase can earn you points which you can use to unlock either additional Wish discount codes or coupons.
In addition to Wish promo codes, you can also often find limited quantity deals enabling you to save big on specific items. Furthermore, many of the discounts on Wish are in constant circulation and subject to change, therefore, we would recommend checking it all out for yourself. To make it easier, however, on Kodino we also add constant updates about the latest deals and discounts which you can use at your own leisure.
How to use Wish discount code 
You can apply Wish discount codes in the shopping cart. To get access to the shopping cart you will have to first select an item that you wish to purchase. After this, you can enter the shopping cart whenever to manage the items in the cart, apply coupons, and finalize the order.
The specific location where you can add a Wish discount code is right under the Order Summary. To add it, click on "+ Apply a coupon" which will open a separate box intended for the code. Type the code into the box and click "Apply" to get the discount.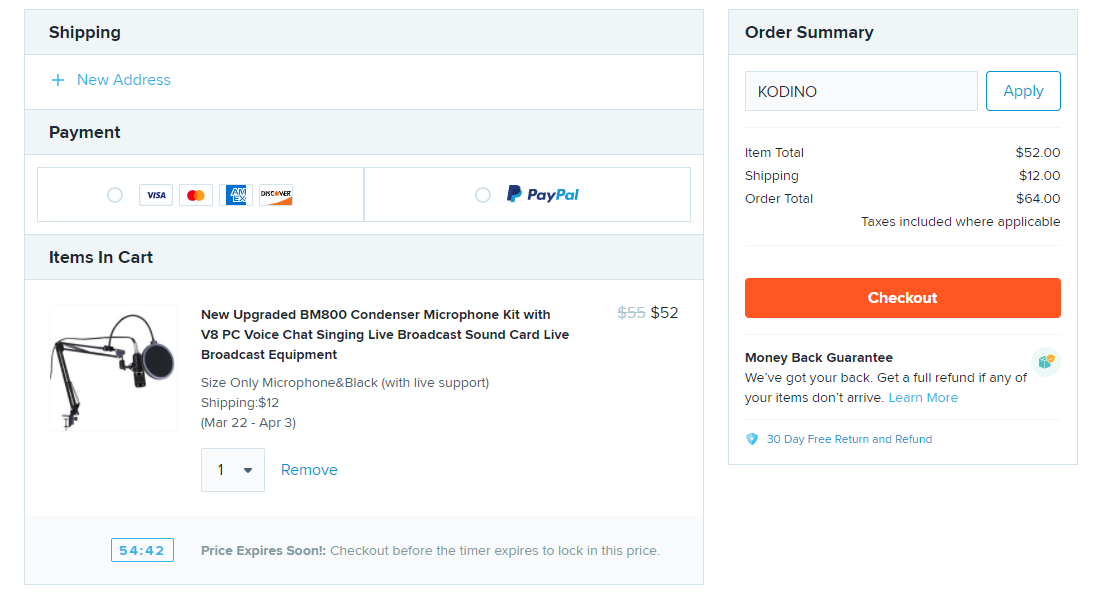 Wish Cashback
Cashback allows the customers to get a percentage of their total costs back after a successful purchase completed with a cashback deal. Cashback deals are offered by cashback websites that provide affiliate links to signed-up members. Generally, the affiliate links must be used in order for the customer to earn their cashback reward.
Cashback can also be acquired when shopping at Wish. Wish cashback can be earned after creating a user on the TopCashback website. All you have to do to get started is use the affiliate link and follow the instructions available at TopCashback.
Wish discounts and how to save
Additionally to all the Wish promo codes, coupons, and deals, there are other bonus features on Wish that can save you additional money. Wish also has daily login reward events, as well as a Blitz Buy wheel which the customers can spin to receive unpredictable and momentary discounts. While these are great ways to save additional money, Wish also has additional ways how they keep shopping fun and interesting.
Additional Wish discounts can be earned when taking part in Flash Sale events which reduce the prices of several items during different times of the day. These sales are quite sporadic, however, extremely rewarding. Additionally, you can save plenty more by participating in Wish Live Auctions, friend referrals, or making a WishSaver subscription which allows you to make repeated purchases on items that you order frequently to gain up to 10% discounts regularly.
Wish contact – e-mail address, contact number, contact information
Wish contact information is often unnecessary as they have quite a detailed section for FAQ. This section can usually help with most issues that customers might have with the services of Wish. If you still happen to run into complications with matters concerning Wish, please use the following information to quickly get in touch with Wish's customer support.
Wish has an automated support assistant available on their website. By chatting with this support assistant you can usually end up either solving your issue or submitting a form that will allow Wish staff to take a closer look at the issues that you might be experiencing. Alternatively, you can also contact the Wish e-mail address (support@wish.com).