Westjet review
Westjet is a Canadian airline that allows you to book flights and vacations. There are many special offers waiting for you that will allow you to save some money while experiencing exciting adventures. Westjet flies to more than 100 destinations in North and Central America, The Caribbean, and Europe.
Westjet review helps you to find perfect rewards program that will allow you to enjoy many great benefits. The program features different tiers so that you can access better and better exclusive rewards. These rewards include member-exclusive fares, priority services, and enable you to collect and spend Westjet dollars.
How to get Westjet discount code
If you are interested in Westjet discount codes, it may be a good idea to sign up on their website. Signing up will enable you to apply companion vouchers, earn WestJet dollars, and discover member-exclusive savings. Westjet promo codes often allow you to save around 25% on your next flight or more than $200 on vacation booking.
When looking for Westjet discount codes you can check out the offers section on Westjet's website. There are always plenty of available discounts that can be immediately applied. Furthermore, you can also find new Westjet discount coupons on Kodino.
How to use Westjet discount code
If you have found a Westjet discount code, you need to apply it before entering any details of your booking and choosing your departure date and destination. Before you begin your search for a ticket you can always check out Kodino to find yourself a discount code.
You may be wondering where to apply Westjet discount code. To apply it, all you need to do is to click on "Apply discount code" on Westjet's homepage. You can find this option at the top of the homepage in the "Book a flight" menu. A new window will appear where you can enter your code and continue with your booking.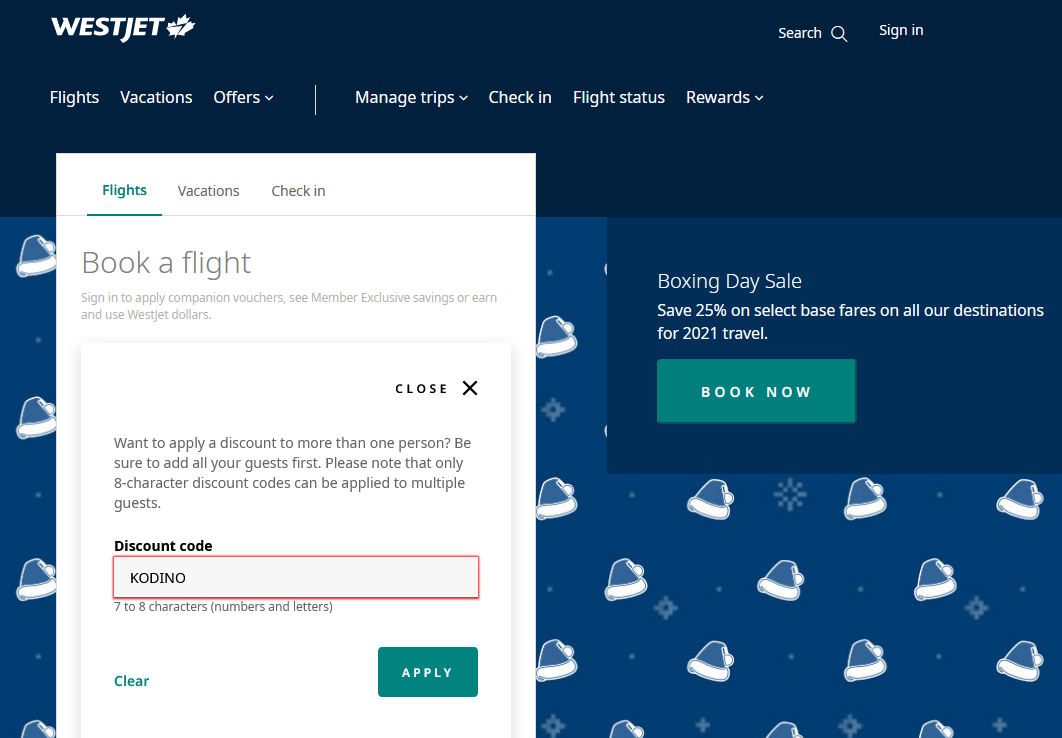 Westjet Cashback
It is easy to save a lot of money every month with the help of cashback websites. After registration, they allow you to get back some of your money after your purchase. To find out how much you can save you should check out how big cashback rewards are available for different stores that you would like to shop on.
Even though cashback is a great way to save, unfortunately, cashback deals are not available for all stores and services. Westjet cashback is not available at the moment. However, it is possible that it will be available in the near future.
Westjet discounts and how to save
Among the Westjet discounts, you can always find multiple flight ticket sales, low fare flights, vacation offers, and special member-only rewards. Westjet promo codes can be found on their website throughout the whole year. Usually, there are available offers at all times.
Westjet discount codes can be used by members as well as those who have not signed up for their Westjet membership. However, signing up is recommended to maximize your savings and get access to more deals. You may also find special deals during the holiday season.
Westjet – e-mail address, contact number, contact information
It is possible to reach Westjet by calling the Westjet contact number: 1-888-937-8538. However, before calling you can take a look at the FAQ to see if you can find the information you are looking for. For the hearing impaired, the following TTY Westjet contact number is available: 1-877-952-0100.
For written communication, you can write a message to Westjet customer service by visiting their website. The form can be found by clicking on "Contact us". Furthermore, Westjet customer service can be reached on Twitter or Facebook 24/7. Guests with disabilities who are experiencing difficulties accessing Westjet's website can use the following Westjet e-mail address: disabilityassistance@westjet.com.