Weight Watchers review
Weight Watchers is a service whose aim is to help you lose weight through a holistic approach. Your weight loss journey with Weight Watchers will begin by taking a personal assessment to provide you with a program that is the most suitable for your body. The program will help you build healthy habits, motivate you towards physical activities, and help you reach your goals at a steady pace.
Weight Watchers app will guide you on your journey. The app is personalized containing many tips, recipes, trackers, and tools to motivate you to stay healthy and active. The best part about the program is that it gives you a lot of freedom in what you eat.
How to get Weight Watchers discount code
Generally, Weight Watchers discount codes are not available for the service. However, you can still find many great discounts and ways to get a free subscription. To find the best deals and offers, we recommend you to check out Weight Watchers discount coupons on Kodino.
Discount codes offer you instant discounts without any need for special Weight Watchers promo codes. Check out all the deals now, because some of them are time-limited offers. Sometimes you will be able to join the program for the price of only $1 and get a 10% or 40% discount on different subscription plans.
How to use Weight Watchers discount code
We will now explain where to apply Weight Watchers discount code. There are generally no regular Weight Watchers discount codes available right now for the service, however, you might receive a Lifetime membership coupon code if you reach your fitness goals.
If you have a Lifetime membership Weight Watchers discount code, it can be applied at checkout. Pick a subscription plan that you wish to purchase, go to the checkout screen and at the top of the screen click on "Have a code?". It will take you to another screen where you can enter your discount and enjoy free benefits.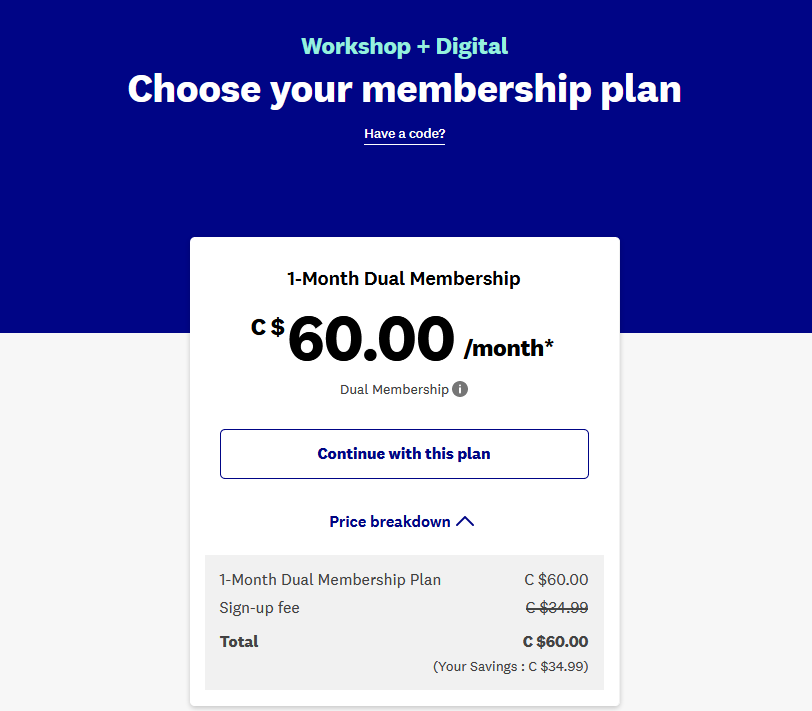 Weight Watchers Cashback
Cashback can be an exciting tool for everyone as it allows them to get back a percentage of their money spent on purchase. If you are interested in a cashback program, then register at the recommended cashback websites that you can see here on Kodino and start saving money on your online shopping.
You can start by checking out all the available Weight Watchers cashback deals. With TopCashback you can save up to $6, Rakuten can help you save $3, Great Canadian Rebates will help you get back $6.50, and Swagbucks $4. If you have not tried cashback yet, you can always find the available cashback deals for many stores on Kodino.
Weight Watchers discounts and how to save
There are many exciting Weight Watchers discounts. The best perk you can get is a free 1-month subscription. All you need to do is to refer a friend and if they use the service for at least two weeks, both of you will get a free 1-month subscription.
Furthermore, new members can get special discounts thanks to seasonal and limited-time offers. These discounts include cheap membership fees and additional discounts on subscription plans. Even though the general Weight Watchers discount codes are not available, you can still get a Lifetime membership Weight Watchers promo code. It will reward you with a free subscription and digital tools if you have reached your weight loss goal and are maintaining it.
Weight Watchers – e-mail address, contact number, contact information
The quickest way to contact Weight Watchers is to call the Weight Watchers contact number: 1-800-651-6000. It is also possible to contact them at Weight Watchers e-mail address: customerservice@weightwatchers.com.
However, you might find an answer to your question on Weight Watcher's website in the "Contact Us" section. There, you can find multiple categories that will redirect you to all the important information that is already present on the website. This way, you can avoid having to contact the Weight Watchers customer service directly.