Sport Chek is a seller of sporting goods. While a large number of the items they sell include workout equipment and exercise gear, you can also find electronics and supplements that will all aid in improving your level of fitness. Do not hold yourself back and offer yourself the best when it comes to your health and well-being.
Sport Chek is popular among men, women, and kids. With a lot of diversity among their customers, they have improved over the years to offer everybody something unique, fun, and new. Connect with Sport Chek through this Kodino article and stay one step ahead by learning everything there is to know about this retailer.
How to get Sport Chek discount code
If you happen to be a member of Triangle Rewards, you can use your loyalty membership to receive great discounts and special offers. If you are not a member, we recommend joining for great deals all over Canada. You can also get a $15 off coupon by signing up for the Sport Chek mailing list.
You can discover many ongoing Sport Chek promotions, discounts, offers, or special deals by checking out their homepage. Be sure to take a look at the Sport Chek discount coupons we displayed here on Kodino. They are tested and will surely help to save you money.
How to use Sport Chek discount code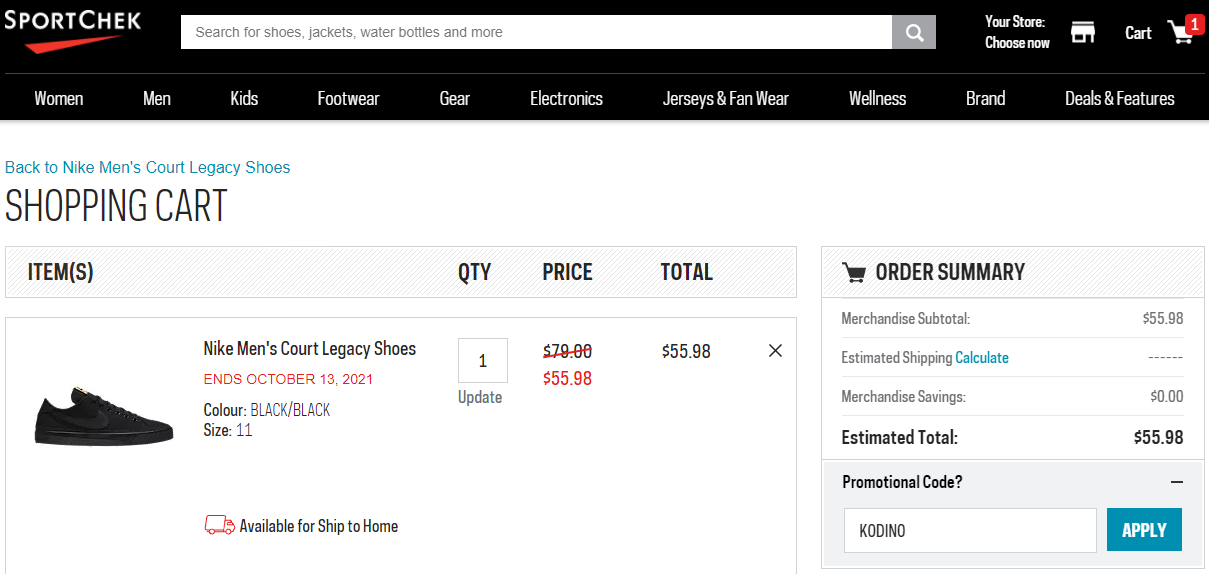 Have a Sport Chek promo code? If you are wondering how to use it, let's have a look at the process. We anticipate that it is a very simple task and we will help you as much as we can. Read here to learn how to use it. First, check out the image for further details.
Sport Chek promo codes can be applied right before checkout. Enter the shopping cart and find the box for your code on the right side of the page. Apply the code to save big. In case your code is not working due to expiration or any other reason, you don't need to worry. Look for a different one on the Kodino website, where you can always find new discount codes quickly and easily.
Cashback Sport Chek
Check out cashback deals and start earning cashback. If you have not heard, cashback is a different method of earning discounts that bypass the need for discount codes or coupons supported and provided by major stores and retailers. Instead, cashback can be earned by using cashback websites that will make sure you earn your cut of the cashback income after completing your purchase through a cashback website courtesy of your cashback provider.
In short, cashback is a small sum from the money you paid for goods that the seller will not be missing, and therefore, cashback dealers will help you get that money back. Cashback websites such as Rakuten and Great Canadian Rebates will help you with earning Sport Chek cashback. We have included a graph that displays the rates of cashback provided. Choose a website to save money with cashback.
Sport Chek discounts – sales, offers, Black Friday, …
Shopping online at Sport Chek has many benefits such as the online exclusive products. Visit the Sport Chek website and scroll down the website to start shopping for clearance deals. Clearance deals are the biggest and greatest discounts available at the Sport Chek online stores at all times.
Sport Chek also offers weekly discounts that can snag you a 50% discount on select items and brands. If you are looking for more opportunities to spend money on some Sport Chek gear try doing some shopping during Black Friday. The autumn and winter seasons will bring plenty of sales and price reductions for many stores including Sport Chek.
Sport Chek free shipping and shipping cost
Consider in-store pickup or curbside pickup to save any unnecessary costs on shipping and handling. If you are not interested in going to pick up the goods yourself, free shipping is also available for most orders above $99. Sport Chek offers only one method of delivery:
The free shipping promotion excludes heavy bags, bikes, and golf sets among many other goods. Sport Chek ships to all regions of Canada except Quebec. Shipping generally takes about 5 business days and the price depends on the weight of the goods and shipping destination.
Sport Chek return policy
Want to return goods you bought at Sport Chek? Do not worry as most goods are eligible to be returned either by mail or in-store, provided that the purchase happened within the last 60 days. However, all returns done within the initial 30 days of purchase will have the advantage and are eligible for a full refund (minus shipping charges).
A return is considered eligible as long as it is returned in its original packaging and it is visibly unworn/unused state. Furthermore, it must be accompanied by all relevant paperwork, parts, or accessories. If you have lost your receipt, store personnel may be able to help you with retrieving it. To find out the specifics or return online orders by mail can find all the necessary details at the Sport Check return policy. As a last note, items considered as final sales such as electronics, nutritional and food products, items purchased on clearance, and a couple of others are not eligible for a refund.
Sport Chek warranty 2023
In the case that you were shipped the wrong item or damaged or defective goods please, contact the online customer service department (1-877-977-2435) as fast as possible. Contacting them can save you from paying any unnecessary shipping charges that are expected from customers making a return not tied to any mistakes made by Sport Chek. Not establishing contact before returning these goods will result in making you ultimately responsible for any shipping charges.
Many of the goods sold at Sport Chek come with a manufacturer's product warranty. To begin a warranty claim for these items, visit the vendor's website for more concrete information and instructions. With further questions concerning warranty turn towards Sport Chek's Retail Customer Service Department (1-877-977-2435).
Sport Chek contact – e-mail address, contact number, customer service
Contact information might come in handy if you have any additional questions regarding your order or if you need further assistance. Sport Chek kindly asks that customers take a look at their FAQ section before contacting their call centre or support staff. Unless that helped, you will be needing more assistance. Here is how you reach out to Sport Chek customer support:
Online form – fill up under the "Contact Us" tab
Phone number: 1-877-977-2435
You can also follow Sport Chek on social media. This is a great way to check out new goods available at your local Sport Chek. You can find Sport Chek on Facebook, Twitter, Instagram, YouTube. If you prefer voice contact use the telephone number from the section above.