Jysk is a good place to shop at when you are looking for new furniture or home decor. There are many nice items that will help you liven up or innovate your home or modernize your office space. Jysk also features a useful storage category on their e-shop that will help you effectively organize all the clutter that could appear at your place. The best part about shopping at Jysk is that the prices are fair and allow for a good shopping experience even with a lower budget.
If you have pets, you can also find some fun items for them at Jysk as well. These include toys as well as pet houses and cat scratchers and trees. Furthermore, if you want to update your patio or outdoor spaces, you will find many great items at Jysk that will help you achieve that. In this article, we will go over some details that will make your shopping experience at Jysk better. We will discuss different types of discounts and sales that are available at Jysk so that you can save as much money as possible.
How to get Jysk discount code
First of all, we will guide you through the process of finding new Jysk discount coupons. Discount coupons can help you save money on items that are currently not on sale. A good way to get constant access to new promo codes and offers is to sign up for the Jysk e-mail newsletter. This will enable you to be notified of all their weekly deals and seasonal contests.
Sometimes, new offers and discount codes are displayed on Jysk's website. They can be usually viewed in the upper part of their site. Jysk also constantly updates their online flyer where they write about all the big savings and discounts that often help customers get 30% off or more. If you cannot be bothered to search for new coupons, then use our Kodino website. Scroll up to see the list of currently available offers at Jysk and click on them to get your deal!
How to use Jysk discount code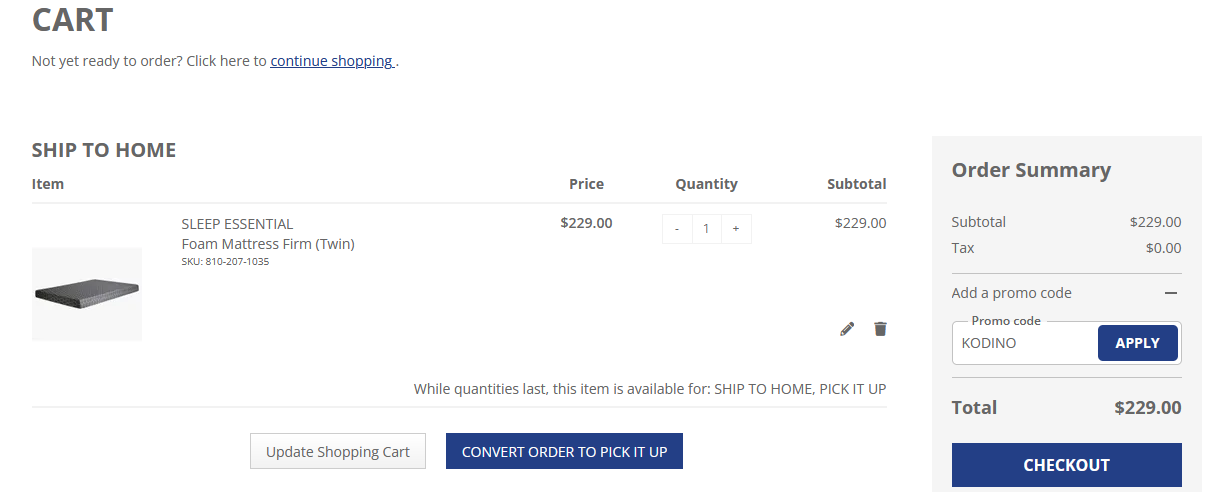 If you are lucky and have a Jysk discount code at your disposal and are prepared to make your purchase, you can start by filling your Jysk shopping cart. Once you have added all the items you want to purchase, click on the cart icon. You should see an option to "View and Edit Cart" written in small text. Clicking on it will take you to the shopping cart screen.
It is at this screen where you can apply your Jysk promo code. More specifically, the promo code field is located in the order summary section. It can be accessed by clicking on "Add a promo code". Once you see the field, write your code there and hit the "Apply" button. If this process was successful, you will be notified and the price will be updated.
Cashback Jysk
Cashback is a means of getting back money for shopping. It works when you access online shops through cashback websites. In order to get cashback rewards, you need to first register at the cashback webite you want to use. Then, make sure to properly read all the rules that you need to follow to get your reward. Keep in mind that you will not get back all your money, but a mall sum depending on the current cashback rate. It is usually around 1-5%, but the rates may be higher or lower as well.
You may want to also earn cashback rewards for Jysk. However, we have to let you know that there are currently no available Jysk cashback offers. Of course, they may be available in the near future, but for now, you must look for other ways to save at Jysk. If you are looking for more cashback deals, check out other stores here on Kodino to see all the available rates from different cashback providers to get the highest savings.
Jysk discounts – sales, offers, Black Friday, …
While Jysk already offers some good prices for lower budgets as well, they also feature many additional ways to save money. For example, you can win special Jysk gift cards during special promotions. Usually, this option is available for signing up for their newsletter. The Jysk gift card can help you save up to $500. But these types of events and contests often change and can offer different types of perks and savings.
For the best overview of Jysk sales, you can check out their flyer. It is available also in a digital format on their website. If you are looking for even better sales, you can look at Jysk's special Black Friday offers in the fall. Jysk furthermore offers a special financing program that allows the customers to pay no interest on purchases of $200 and up. Specific conditions may apply.
Jysk free shipping and shipping cost
Jysk's shipping locations vary from place to place. However, generally, each Jysk store delivers to addresses that are located within 50km of distance. If you want to find out the cost of shipping to your area, go to the shopping cart after you have added some items to it. Select your province and enter your postal code to the "estimate shipping and tax section". Afterwards, you should be able to view the quotes. If no prices appear, it means that you are not located within the delivery limits. However, you can still request a delivery quote for your area from Jysk customer service if you are interested.
Soft goods and small furniture items are usually delivered via Purolator or Canada Post. You will also receive a tracking number with your order. Bigger items including mattresses and furniture are delivered by 3rd party delivery companies. Jysk tries to get your order to you as soon as possible, however, it could take up to 1-3 weeks depending on the item's availability. Free shipping discount coupons are available on specific products and during certain promotions.
Jysk return policy
Jysk offers easy returns and exchanges in case you change your mind. You will be refunded the full cost of the items if you present your proof of purchase. All new and unused products can be returned within 60 days of purchase. If you have already assembled your furniture, it can be also returned if it is free of stains or signs of negligence or damage. Certain mattresses offer longer return time periods of up to 100 days.
If you want to return your product in one of Jysk's physical stores, you will need to present your order e-mail confirmation. If you do not have it, please contact their customer service at 1-888-696-JYSK (5975). If you are returning your order by mail, remember that all the shipping costs are non-refundable. Furthermore, if you return an item offered with free shipping, the cost of shipping will be afterwards deducted from your refund. The timeframe to receive your refund is usually 6-10 business days. For more information, visit Jysk return policy page.
Jysk warranty 2023
If you are wondering about Jysk warranty, we will briefly explain all you need to know. Some products sold at Jysk come with a warranty. These items are usually mattresses, but also other items can be subject to warranty. The length of the warranty depends on the specific product and can be even for up to 5 years long.
If you are wondering about the specific warranties, please go to Jysk's website and find the product you are interested in. Then, scroll down to the product information and look for warranty information there. If there is no information about warranty, then it is not available for that specific product. If you have any questions related to this topic, do not hesitate to contact Jysk customer service with the contact information provided in the next section of this article.
Jysk contact – e-mail address, contact number, customer service
Need any help or have a question for Jysk? If yes, then you can get in touch with Jysk with their contact information provided here. Keep in mind that there may be a delay in answering to your e-mails or calls during busy times. If the phone lines are busy, you can submit a ticket and the customer service will get back to you as soon as possible. After submitting your ticket, you will get a confirmation email. If you wish to call, dial the following number:
Jysk contact number: 1-888-696-JYSK (5975)
If you happen to stumble upon a busy line, but want to get an answer to your question immediately, you may also be able to find it in their FAQ section. There is a lot of information about returns, missing or damaged items, or online shopping at Jysk. If you like social media and want to get Jysk updates there as well, you can follow and like them. They are available on:
Facebook
Instagram
Pinterest