Harveys is a proud Canadian fast food restaurant that serves all the most popular fast-food staples such as burgers, wraps, fries, hot dogs, and more. But why should you go to Harveys when the choice of the fast-food market is bigger and greater than ever? Answers to this and other interesting topics are exactly what we have come to discuss in this Harveys review.
Harveys, unlike many other fast-food chains, allows the customer nearly full control of what goes inside their best-selling staple products, which include burgers, wraps, and many others noted earlier. Beyond their staple products, they also offer plenty of different snacks and side dishes from the familiar chicken nuggets, french fries, and onion rings to the more obscure items on their menu such as deep-fried pickles and a mixed variety of different types of poutine. A key quality of Harveys is also their attempt to use and source local ingredients for most of the items on their menu and they always try to innovate their lineup with seasonal drinks or flavour-packed sauces. Visit your local Harveys or order in as they can surely satisfy, you, the family, as well as the kids.
How to get Harveys discount code
Before you give in to your hunger, might we suggest a couple of ways how to reduce costs at Harveys so that your wallet will not experience huge repercussions while you are out for a satisfying meal? Well, first off, an easy way to reduce costs is by downloading Harveys' mobile app. With this app, you will not only be able to get exclusive offers to minimize your spending, but you can also order and pay ahead, fully customize your order as you would normally, and earn a free burger on your very first in-app order.
Another way to spend less is by signing yourself up for a Harveys' free frings partnership. This is essentially a loyalty program and it will allow you to get a free serving of frings with every burger or sandwich order and a secret special gift during your birthday. Try these methods or visit Kodino for additional discount coupons, promo information, and more.
How to use Harveys discount code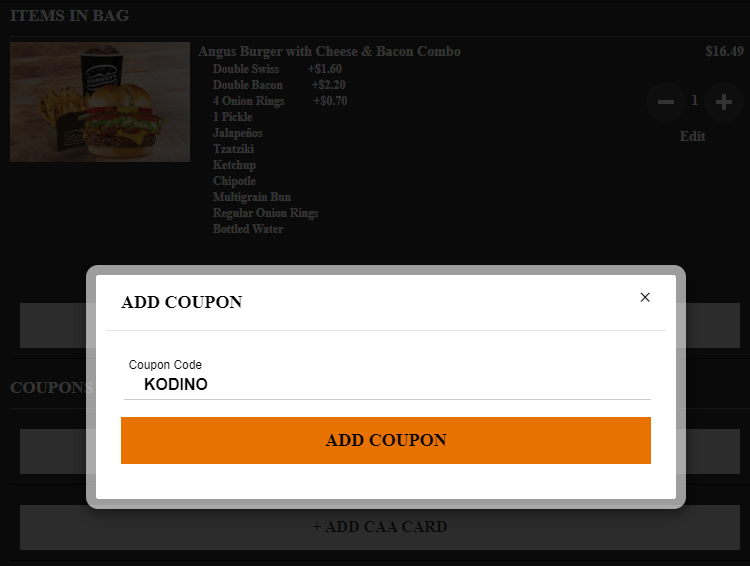 If you acquired some Harveys' discount codes, you should also find out how to use them as often certain discounts might have a date of expiration. To make sure you will not miss out on your discount, we will tell you where you can apply your code. To ease the process we have added a supplementary image.
Before you start following these instructions, be sure to have everything that you want in your shopping bag. After that, when you are ready to proceed, enter the shopping bag. Here you can review the items and also apply your code. To apply promo code simply look at the options available under "Coupons". There you can click on the box that says "+ADD COUPON" to add your code and gain all of its benefits.
Harveys Cashback
One of the ways that shoppers today reduce their costs is cashback. Cashback is a unique method that allows you to earn money back from purchases that you have completed. However, you can only earn your spent money if you took all the necessary precautions before completing your purchase. For the most part, this means confirming a cashback provider and their conditions for offering you a cashback deal. Today, the most common cashback providers are cashback websites out of which a couple will be introduced here on the Kodino website.
However, it is a pity that right now there are no cashback offers available for Harveys. We will inform you as soon as opportunities for Harveys' cashback become available. For now, we recommend you use the other valid and active methods of saving money on your Harveys orders.
Harveys discounts and how to save
Here we will introduce certain approaches that may allow for bigger discounts at Harveys. As a start, if you use the entertainment rewards app known as SCENE, you will be entitled to certain exclusive perks and discounts. Visit Harveys' homepage and check out all available SCENE benefits by finding the "SEE OFFERS" under the SCENE logo.
Another option that you can use to reduce expenses is with a valid CAA membership. With the membership, you can receive a 10% discount on your next order. Try using both SCENE and CAA to maximize your savings at Harveys.
Harveys contact – e-mail address, contact number, contact information
You can get a hold of Harveys' customer support without any difficulties. The easiest way is via mobile. However, you can also opt to fill out the form available on the Harveys website. You can contact the customer service via:
Contact number

: 1-844-729-7828

Contact form
If you are an active user of social media, you may be interested in finding Harveys on social media. Following Harveys on social media is a great way to learn about surprise promotions and new items on the menu. Harveys has accounts on the following platforms: Facebook, Twitter, Instagram.