Since the website launch in 2004, Glasses Shop has delivered over a million pairs of eyeglasses to its customers while maintaining the standard of providing the highest quality at affordable prices. Explore a wide selection of women's frames, men's frames and more for the whole family at unbeatable prices. Through its user-friendly platform, you'll discover prescription sunglasses, eyeglasses and accessories that fit your face shape and style. You can expect a first-class customer experience and affordable prices you won't find anywhere else every time you shop at Glasses Shop.
Discover new collections or check out their sale section, where you can find pieces from previous collections available for lower prices with the Glasses Shop discount coupon. Let us share with you few tips on how to save money at Glasses Shop. We encourage you to continue reading this Glasses Shop article, as we are going to explain everything you need to know. We also update current discount codes regularly on the Kodino website, so you won't miss a chance to save.
How to get Glasses Shop discount code
One of the options how to get a Glasses Shop discount code is to explore their website. Glasses Shop offers limited-time discount codes regularly. Receive 50% off your first purchase plus free shipping by signing to the Glasses Shop newsletter. As a subscriber, you'll also gain first-look access to new products and be the first to know about upcoming sales.
Give your friends a chance to get 50% off their first order and you receive a $10 discount as a reward when they use your referral code. In addition, students get 35% off their order when they verify their student status with Student Beans. Visit the Kodino website to find several Glasses Shop promotional codes so that you don't waste time searching and are always up to date with the latest news.
How to use Glasses Shop discount code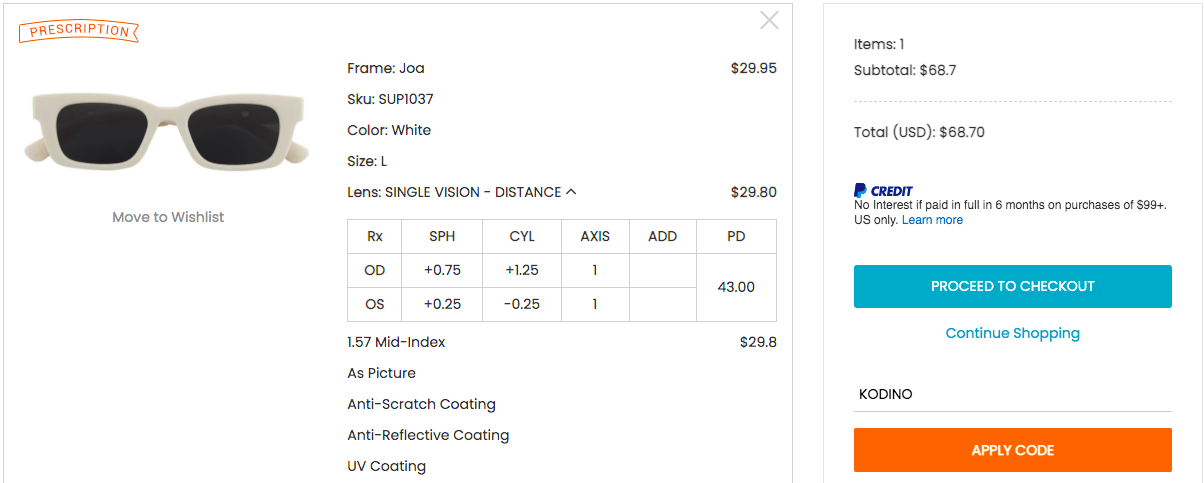 If you are wondering how to use the Glasses Shop discount code, let's have a look at the process. Once you are done picking your favourite pairs, click on the shopping bag. Don't forget to preview your order, and then before proceeding to checkout, you will see the field for entering the promotional code on the right-hand side. Enter the promotional code in the respective field.
The discount will be immediately subtracted from the purchase price. In case your code is not working due to expiration or any other reason, you don't need to worry. Look for a different one on the Kodino website, where you can find new discount codes quickly and easily.
Cashback Glasses Shop
If this is the first time you have heard the word cashback and don't know how it works, let us explain it below. Cashback is a reward program that will grant you a certain amount of money you've spent on your order back once you complete your order. Check out the table above to see the most outstanding cashback services and the exact percentage of money that you get returned for purchasing at Glasses Shop.
Therefore, to get cashback at Glasses Shop, you will need to sign up at services such as TopCashback, Rakuten, or Swagbucks. You can currently obtain up to 12% on TopCashback.com. Deposit the money in your bank account or keep it in the cashback account for your next purchase.
Glasses Shop discounts – sales, offers, Black Friday, …
As already mentioned, there are multiple Glasses Shop sales and special promotions throughout the year. You can easily access the sales section on the store's website, where you can find flash sales and daily bargains. Also, if sign up to their newsletter you will be able to find a multitude of bargains and discounts so that you can obtain the products you want at a fairly competitive price. For doing so, Glasses Shop gives you 50% off plus free shipping. Glasses Shop offers various benefits and rewards for loyalty program members as well. Plus, new customers get their first pair for free.
If you are looking for seasonal sales, you can find those on the website during specific periods. Glasses Shop prepares special deals for occasions such as Cyber Monday or Black Friday. Take advantage of a referral program and get rewarded for spreading the word about them. Finally, you can save all year round thanks to your discount coupons that you can obtain on the Kodino website, where we collect them all.
Glasses Shop free shipping and shipping cost
Glasses Shop is offering various shipping methods for your convenience. The shipping costs depend on the delivery address and the type of shipping. Glasses Shop free shipping will apply on orders over $79. Good thing is that you do not need to enter any promotional code. If your order does not reach that amount, delivery options are:
Standard shipping: $5.95, free over $79
Expedited shipping: $24.99, free over $249
Delivery time depends on your choice. Standard delivery typically takes 7-20 business days, while expedited shipping takes up to 5-10 business days. Check the Glasses Shop free shipping discount coupon on the Kodino website for further information.
Glasses Shop return policy
If you are not fully satisfied with your delivered items, you can return them within 30 days of receipt. In this case, you can return them for a 50% refund to the original payment method or 100% store points on one time basis. Glasses Shop return policy requires you to contact customer service first to approve the return. Items must be in original unworn, unwashed, and unstained condition.
Refund will be processed within 7 working days of receipt. Once your refund has been processed, it will take 7 to 10 business days for your bank to process the credit and apply it to your account. The customer service will be happy to take care of your return request and guide you through the refund process.
Glasses Shop warranty 2023
Likewise, for you to know the protection available to the products you have purchased, there is a Glasses Shop warranty. If you find your item to be materially defective, the item must be returned in the same condition as it was sent within 90 days after receiving it. Learn more about the Glasses Shop warranty on the store's website.
Glasses Shop will ship a new frame charging the customer 50% of the cost of the frame plus shipping fees. If the customer return glasses with clear defects in material and workmanship within 30 days of receipt, Glasses Shop will ship a new frame at no additional charge or provide a 100% refund to the original payment method. Learn more about the product warranty and feel free to contact the customer service as listed below.
Glasses Shop contact – e-mail address, contact number, customer service
Contact information might come in handy when you have any additional questions regarding your order, return or refund process, or if you need further assistance. There are a few ways to reach out to Glasses Shop for help. You can contact the customer service via:
Live chat
Contact Us form
Telephone number: 1-855-202-0123
Email address: service@GlassesShop.com
The fastest way is to use the live chat located on the website. Likewise, if you notice that it is urgent and you have a very short time, it is best to contact Glasses Shop using the telephone number that has been provided, since they usually have excellent customer service. Alternatively, write them an email or fill out the contact us form located on the website.