Frank and Oak is a business that values ethical practices and sustainability when it comes to making clothing that would minimize the environmental impact on our planet. They offer clothing with very good functionality and they offer a lot of variety for both men and women. By buying your clothes such as t-shirts, hoodies, loungewear, jeans from Frank and Oak, you are making an eco-friendly decision that will help to reduce the waste that is impacting and polluting our planet.
A factor to consider when shopping eco-friendly is the prices. However, that is exactly why we have written this review on Frank and Oak. The purpose of this review is to make it easier to shop at Frank and Oak and to provide you with additional information about the store's return policy, warranty, and contact information.
How to get Frank and Oak discount code
Frank and Oak offer coupon codes during special offers and discounts. You can keep a close eye on your social media, website, or e-mail if you have taken the necessary precautions to receive their updates. For e-mail updates, you can easily subscribe to their newsletter in the down-right corner of their homepage.
We will include the details for social media in the contacts subsection of this article. Frank and Oak also offer store credit if 7 days following your purchase of a regular-priced item goes on sale. Store credit can help you reduce the costs of Frank and Oat merchandise. For more discount coupons and vouchers you can also rely on Kodino.
How to use Frank and Oak discount code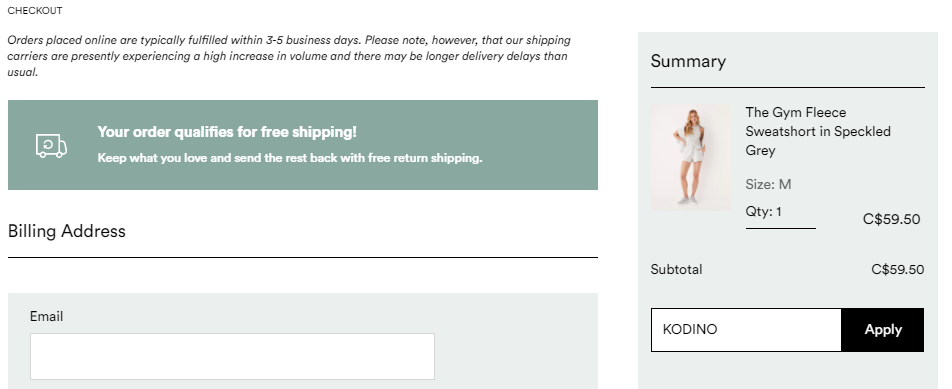 If you are wondering how to use the Frank and Oak discount code, let's have a look at the process. Using a Frank and Oak promo code is very simple. Add your items to the cart and proceed to checkout. At checkout, look to the right to see a box for a discount code.
You can type in your code and click on "Apply". From now on your discounts will be considered when calculating the total sum of your purchase. Check out the supplementary image to confirm the correct placement of your Frank and Oak discount code.
Cashback Frank and Oak
There are many great benefits to online shopping. One of these benefits is certainly the capability of earning cashback from purchases. Cashback is a very contemporary way of making shopping more cost-effective. To earn cashback, shoppers must use cashback websites to gain cashback opportunities, cashback links, and upon fulfilling a set criterion, the cashback reward. Let's take a look at the available cashback offers for customers of Frank and Oak.
Frank and Oak customers may earn cashback via the usage of four cashback websites. All four offer relatively different cashback rates, and therefore, it is up to you to make the decision of which one you choose. Your options are TopCashback, Rakuten, Great Canadian Rebates, or Shopper Army.
Frank and Oak discounts – sales, offers, Black Friday, …
Frank and Oak store features various sales. During specific seasons you may discover great prices during public and national holidays such as Black Friday, Easter, Christmas, and more. You can find all relevant prices for sales under the "Sale" category easily accessible from the e-shop.
Beyond sales, Frank and Oak also offer special prices for students. Students can receive a 20% discount at Frank and Oak and also have the option to pay later. Follow Frank and Oak on social media where you will be notified when new sales go live.
Frank and Oak free shipping and shipping cost
Frank and Oak ship to various international destinations in addition to Canada and the United States of America. Canadian orders may be subject to additional taxes. Frank and Oak shipping options to America and Canada:
Standard shipping: $9.95, may take from 2 up to a total of 14 business days
Express shipping:$15.00, may take from 2 up to a total of 8 business days
Ship to Store: free of charge
You will receive a confirmation e-mail once your order has been shipped. You will also get a tracking number which will allow you to keep an eye on the progress of the delivery. Frank and Oak will not take responsibility for the loss and/or theft of the package after it has left the warehouse.
Frank and Oak return policy
Frank and Oak's return policy requires that customers act fast to get a refund. Items may be returned either in-store or by mail. Key things to keep in mind as stated in the return policy includes the following:
Items should be returned as soon as possible

Items should be returned in their original condition

Certain items cannot be returned or exchanged

Tags must be kept on
Among the other responsibilities of the customer, the client must make a return request within 10 days of the delivery date. After that, the customer will have an additional 7 days to mail the item back. Alternatively to all of this, you have a 30-day time period in which you may return the item(s) in person to a Frank and Oak store. 
Frank and Oak warranty 2023
Frank and Oak accessories and apparel are quality guaranteed for 30 days after purchase. If you have a product that shows otherwise, especially in terms of its workmanship you are advised to contact the Frank and Oak customer support. All the information will be included in the next subsection.
A little more In terms of the return policy, Frank and Oak offer free return shipping to all online purchases within Canada and the US. Once your item has been received and processed, you will receive an e-mail of confirmation. All returns whatever the reason should be mailed to the following address:
Frank And Oak 160 St-Viateur Est, #110 Montreal, Quebec Canada H2T 1A8
Frank and Oak contact – e-mail address, contact number, customer service
Before approaching Frank and Oak, we suggest checking out the Frank and Oak FAQ. If you do not find an answer to your issue with the FAQ, please do not hesitate and contact Frank and Oak customer support. Use the following approaches to get help:
E-mail:

memberservices@frankandoak.com

Live chat on the Frank and Oak website
Frank and Oak would also love you to get in touch with them via social media. The easiest way to do so is through Facebook messenger. Furthermore, here are all the details about the kinds of social media that Frank and Oak use: Facebook, Twitter, Instagram, LinkedIn, Pinterest.