Dunkin Donuts welcomes all customers with a menu that will give you the energy you need whether early in the morning or during the day. At Dunkin Donuts, you can enjoy tasty all-day breakfast sandwiches, snacks, wraps, bagels, muffins, coffee, tea, frozen drinks, and of course doughnuts. You can enjoy your favourites either at one of the Dunkin Donuts shops or at home or office. The best part is that now you can order Dunkin Donuts delivery because they partnered up with several delivery companies.
If you love getting a snack or breakfast at Dunkin Donuts, and you visit them frequently, you may want to know how you can save some money while still being able to enjoy your favourites. And that is exactly what we are going to discuss! You can read more to find out how to maximize your savings, whether there are any cash back rewards available, what types of discounts are available, and how you can contact the shop if you need any help.
How to get Dunkin Donuts discount code
Follow Kodino to find out about all the new Dunkin Donuts discount codes and promotions. We add new discounts on a regular basis. Every day, there are new discount coupons added to Kodino and some of them may be also for Dunkin Donuts! You can freely click on any of them and they will take you to the deal. Do not worry, they are all free to use!
Some Dunkin Donuts discounts are available only for the members of their loyalty program. We will describe these benefits later in this article. Therefore, if you want to make sure to get access to all discounts, do not hesitate to sign up and join their special member's program. You will have a chance to get free items.
How to use Dunkin Donuts discount code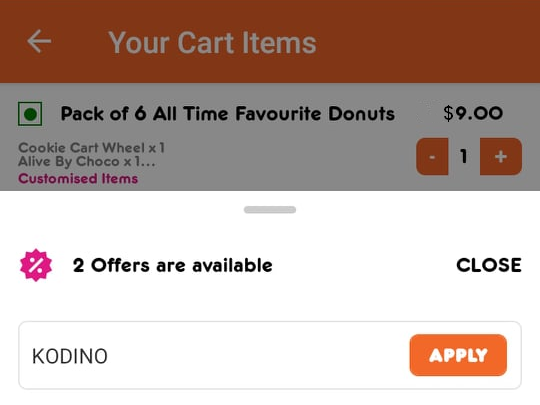 Dunkin Donuts supports promo codes. If you find some, you may wonder how you can use them. They can be applied in their app if you want to pay before picking up your order. Also, if you are ordering a Dunkin Donuts delivery, you can usually apply a promo code in the app of the delivery company. They may have different ongoing promotions that you can use.
The image above shows you what the promo code field looks like in the app. Once you download the app, start your order. Then, you will be taken to the menu screen. Choose your items and add them to your basket. Once you have chosen all the items, go to the shopping basket screen. You should see a section called "Apply Offers". Click on it, type in your code there, and apply for the promotion. Afterwards, finish your order and enjoy the money you saved on your next order!
Cashback Dunkin Donuts
You have probably already heard of cashback. However, maybe you have never used it. If that is the case, let us introduce this money-saving tool to you. Cashback is a program that lets registered shoppers get back money from their purchases. Depending on the program's conditions and cashback rate, you can get back a certain fraction of your spent money. It may not feel like you are saving much at first, but if you keep using cashback more, you will see how these small rewards pile up.
Here on Kodino, we also provide an overview of all cashback reward opportunities for each store. We have also checked Dunkin Donuts cashback. We are sorry to inform you that Dunkin Donuts cashback is currently unavailable. However, there are other ways you can save when getting some tasty breakfast, so keep reading.
Dunkin Donuts discounts and how to save
There are several ways you can save money at Donkin Donuts. First, you may consider downloading their app. Thanks to the app, you will be able to earn exclusive rewards and offers or apply discount codes. Furthermore, the app will ensure that you are also able to earn loyalty points. This brings us to the Dunkin Donuts loyalty program which is the best way to save.
Dunkin Donuts offers the customers to freely join their DD Perks loyalty program. For every dollar spent, you will earn 5 points. Once you gather 200 points, you will get a free drink! Furthermore, the more points you gather, the more special rewards you will unlock! If you are wondering about any Dunkin Donuts sales, remember to check them out on Black Friday. They often prepare some amazing discounts for all customers during this day. Lastly, if you love Dunkin Donuts coffee, but you would like to save some money. You may want to consider buying their packaged coffee and brewing it yourself at home. That way you may enjoy their coffee at home every day and save a few dollars.
Dunkin Donuts contact – e-mail address, contact number, contact information
If you need to contact any of the Dunkin Donuts shops, please refer back to their website to find the right contact information. Dunkin Donuts has more than 11,300 restaurants worldwide. Therefore, if you want to get in touch with them, you will need to search for the Dunkin Donuts contact number for the given shop that is at your location. You can find the phone number by going to their website and clicking on "Locations" at the top of their page. Then, find the shop near you and you will find their number, address, opening hours, and more information.
If you want to know about all Dunkin Donuts new products, follow them on social media. If you feel like it, you can always leave feedback there, too. You can also find information about ongoing promotions and specials on their social media. Check them out on these pages or apps: Facebook, Instagram, Twitter, Pinterest, Youtube.