Cyberlink review
Cyberlink offers software for Windows and Mac that will help you edit photos, videos, and audio, convert files, record your screen, and more. Tools for better business communication are also available. These tools can help you run video calls, presentations, and webinars. They can also allow you to instantly communicate with teams and individual members. Cyberlink also offers useful apps for Android and iOS.
Some of Cyberlink's software requires a monthly or a yearly subscription in order to use it. Furthermore, the subscription will allow you to get all the new content and updates. On the other hand, some software requires only a one-time purchase. Read our Cyberkink review to find more about how to shop smart and save.
How to get Cyberlink discount code
Finding new Cyberlink discount coupons can be an easy task if you rely on Kodino. We collect Cyberlink promo codes for you right here. With Cyberlink discount codes you can even save up to 40% on Cyberlink software or subscriptions.
If you are a teacher or a student you have a chance to get a Cyberlink discount code and get the software cheaper. During Black Friday sales and other special events, you can also watch out for great deals and Cyberlink discount coupons.
How to use Cyberlink discount code
If you are wondering where to apply Cyberlink discount code, it needs to be typed into the Coupon Code field inside the shopping cart. After typing in the Cyberlink discount code, you need to click on Redeem to apply the discount. You can see the Coupon Code field in the image below.
Before each purchase, make sure to look at Kodino to see whether there are any available discount codes that will help you get a Cyberlink discount. It does not take almost any time and it can help you save some money.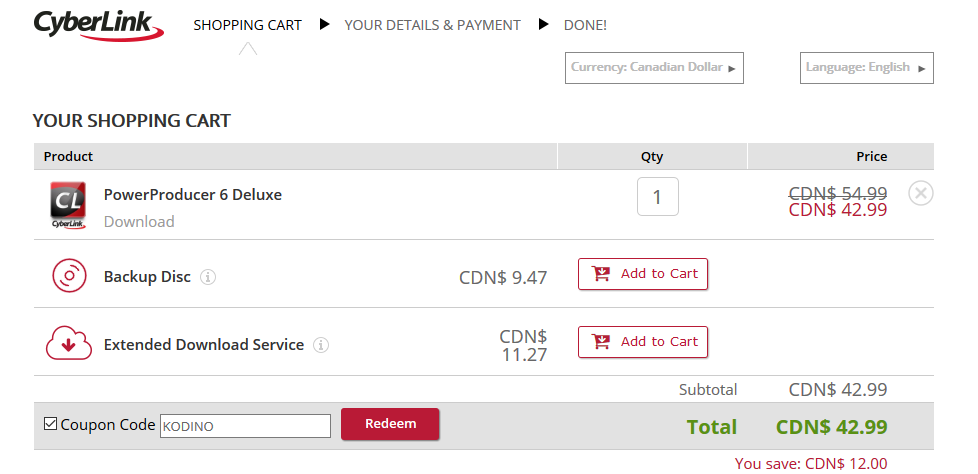 Cyberlink Cashback
Cashback is a great way to save money while shopping. If you purchase something online by accessing the store or service's website through a cashback website, you can get some of your money back. It can be used each time you shop if there are available cashback deals for that specific store.
Unfortunately, there are currently no available Cyberlink cashback offers. However, there are still many great ways to save money at Cyberlink.
Cyberlink discounts and how to save
If you want to save money at Cyberlink, always check out new Cyberlink discount codes here at Kodino. Furthermore, do not forget that you can try Cyberlink software for free. This way, you will find out whether you are satisfied with the service and wish to purchase it.
Another great way to save money at Cyberlink is to purchase an annual plan which is much cheaper than paying each month separately. Teachers and students can save up to 40% with the Cyberlink special educational discount plan. Furthermore, Cyberlink also offers special sales on their website where you can find the current Cyberlink discounts. Watch out for new Cyberlink promo codes especially during Black Friday and other popular events.
Cyberlink contact – e-mail address, contact number, contact information
It is possible to contact Cyberlink on their social media or through an Inquiry form on their website. You can find the form by clicking on Contact Us at the bottom of the Cyberlink´s webpage. This way, you can contact Cyberlink directly.
If you need an answer to your question quickly, you can also try to first look at the Frequently Asked Questions section. This section can be also found by clicking on Contact Us on Cyberlink´s website.
In the case you wish to discuss OEM business enquiries, you can call the Cyberlink contact number: + 1 408-217-1850.