Chuck E Cheese is a great place for the whole family where kids and parents can enjoy fun activities and tasty food together. Whether you are planning a birthday party, school trip, or just want to make a day more fun and special, you can always think of visiting Chuck E Cheese. There are many games to enjoy as well as a menu that most kids will enjoy. Chuck E Cheese also offers special items on their menu that are time-limited.
Foods that you can enjoy at Chuck E Cheese include pizza, wings, different appetizers, desserts, salads, as well as soft drinks, and alcoholic beverages for adults that are available at some locations. The best part is that nobody has to feel excluded with gluten-free and vegetarian pizza options on Chuck E Cheese's menu. If you are trying to save money you can learn more about special deals that will help you out. Keep reading this article and you will soon find out more!
How to get Chuck E Cheese discount code
If you are looking for Chuck E Cheese discount codes, you can begin your search here on Kodino. We have prepared a collection of available discount codes and coupons for your convenience. If you want to look for more, you can look for new codes on Chuck E Cheese's website or in their app. Their app offers special rewards that you can enjoy even more if you are a frequent customer at Chuck E Cheese.
It is important to keep in mind that Chuck E Cheese rewards cannot be combined with other discount coupons. Therefore, always try to find the deal where you can save the most. If you want to find out even more ways you can save, other than discount codes, keep reading this article. We will soon tell you more about their loyalty program and deals.
How to use Chuck E Cheese discount code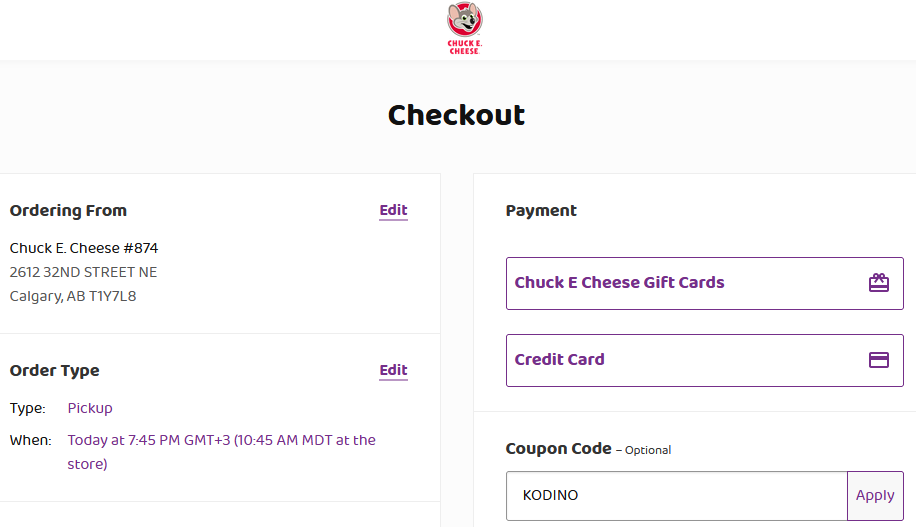 If you want to order food comfortably before you arrive at Chuck E Cheese, and take it home with you, you can order it for pickup on their website. This will allow you to add a special Chuck E Cheese promo code to your order and save money. If you have found a Chuck E Cheese discount code that you want to apply to your order now, we will walk you through the process.
First of all, choose the location of a Chuck E Cheese restaurant that you want to order from by clicking on "Find a Location" at the top left corner of their website. After picking the location, choose all the food you want to order and the time you wish to pick it up. Once all is done, you can proceed to checkout by clicking on the shopping cart icon in the top right corner. That will take you to the checkout screen where you can add your promo code. You can see the field for entering your code in the screenshot above.
Cashback Chuck E Cheese
You may already be using cashback to save money on your shopping sessions and service subscriptions, but if not, let us explain to you what cashback is and how you can use it. Cashback is a great way to save money when making online purchases. The way it works is that after making a purchase through a link provided to you by a cashback website, you can get some money back. There are different cashback portals that you can register on.
Once you register on a cashback website, you can check which of their cashback deals you are interested in and see the cashback rates they provide. Make sure to also read all the conditions for a successful receipt of your cashback reward that will be sent straight to your credit card, sometime later. To make it easier for you, we have checked the available Chuck E Cheese cashback offers. Sadly, we must inform you that right now there are no available cashback offers. However many other restaurants and stores on Kodino have available cashback offers that you can enjoy right now, so check them out if you are interested!
Chuck E Cheese discounts and how to save
Chuck E Cheese offers weekly deals that you can check out on their website. Their website features a "Weekly Deals & Coupons" page where they add new discount coupons and information about ongoing deals. These can include discounts on playing games at Chuck E Cheese or discounts on menu specials. You can find a list of ongoing deals also by downloading the Chuck E Cheese app.
Chuck E Cheese rewards program is a great way to save. You can earn points by making purchases which you can later exchange for prizes. The prizes include E-tickets, free playtime, or free food. Chuck E Cheese has also prepared some fun rewards for kids, too. These include their tooth fairy award for kids that lose their tooth, super student award, sports reward, and many more to support your children's achievements. They can get additional loyalty program points with these rewards.
Chuck E Cheese contact – e-mail, phone number, infoline
Chuck E Cheese can be found in many different locations throughout the USA, Puerto Rico, and Canada. Therefore, if you want to contact a specific restaurant, you will need to look for their contact on Chuck E Cheese's website. In the top left corner, you can see the option "Find a Location". There, you can find the exact restaurant that you want to visit and find out about their opening hours and contact information. However, if you want to contact Chuck E Cheese customer service, you can do that via an e-mail contact form available on their website.
Furthermore, you can contact Chuck E Cheese Guest Relations service at the following e-mail address and phone number:
They are available from Monday to Friday, from 8 a.m. to 5 p.m. (CT). Do not also forget that you can visit Chuck E Cheese on their social media pages. They can be followed and liked on:
Facebook
Twitter
Instagram
Youtube
Pinterest