Chemical Guys offer a variety of car care products such as car waxes, sealants, polishes, and auto detail kits. Products can be purchased in walk-in stores across the USA and Canada or online.
There are different ways how to save at Chemical Guys. The company offers a variety of discounts for products throughout the year as well as Chemical Guys free shipping.
Chemical Guys have a point-based reward system. Sign up or log in prior to purchase and receive one point for every dollar spent. Points can be redeemed as discounts for future purchases:
500 points = 25% off
1000 points = 50% off
It is useful to keep track of sales such as Chemical Guys Black Friday and Cyber Monday for good deals.
How to get Chemical Guys discount code
Chemical Guys publish Chemical Guys discount codes for specific products or product categories. Discount codes are typically offered during smaller promotions and seasonal sales.
Keep track of our website for up-to-date information about the latest Chemical Guys discounts and promotions to save big on every purchase you make.
How to use Chemical Guys discount code
Most Chemical Guys discount codes are valid only within a specific time frame, for specific products or when the purchase exceeds a particular amount of money. Therefore it is important to choose a discount code applicable to the product you wish to purchase.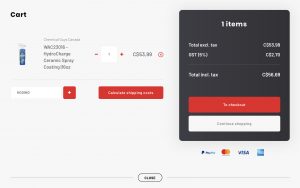 You can use Chemical Guys discount code in the shopping cart prior to checkout. Apply code into the designated window and discount will be applied if the code is correct.
Chemical Guys Cashback
Cashback involves registering for free on cashback portal and accessing an online store through the cashback portal. After purchase you will receive a predetermined percentage of your payment back.
Unfortunately there are currently no Chemical Guys cashback offers for Canadian stores.
Chemical Guys discounts – sales, offers, Black Friday…
There are variety of Chemical Guys sales throughout the year. The Labor day sale, Stock it up for Spring sale and other smaller promotions might not be held every year and tend to alternate. Smaller end-of-the-year or new-year Chemical Guys sales are usually organized to sell products that have not been sold throughout time.
Chemical Guys Canada also offers discounts on Chemical Guys Black Friday and Cyber Monday, both in walk-in stores and online.
Chemical Guys free shipping and shipping cost
Chemical Guys free shipping is offered when the order equals or exceeds $150 before taxes. Such orders are shipped as expedited parcels by Canada Post. Chemical Guys free delivery does not apply to kits.
For orders under $150, shipping costs and time of delivery depend on your address. Delivery typically takes 1-15 business days.
The exact shipping cost can be calculated prior to check-out. A summary of Canada Post delivery standards for domestic parcels can be accessed here.
Chemical Guys return policy
The Chemical Guys return policy states that undamaged items with unopened packaging may be returned within 30 days from the date of delivery.
To be able to return items, it is necessary to contact the Chemical Guys customer support department. The customer is responsible for correctly labeling and sending the package to its return address. A 15% restocking fee will be charged for all returns.
Chemical Guys warranty 2023
Unfortunately there is no expressed or implied Chemical Guys warranty for their products.
Chemical Guys contact– e-mail address, contact number
If you have any problems with your order or any other enquieries, Chemical Guys contact center is there for you. You can get in touch with Chemical Guys via phone or e-mail:
Chemical Guys contact number: 416-775-9264
Chemical Guys e-mail: info@chemicalguyscanada.ca
Alternatively, you can message the Chemical Guys team through Facebook or visit the nearest store.