Chefs Plate review
Chefs Plate is a meal delivery service proud to be delivering their meals and fresh food ideas all around Canada. On their weekly selection, you can find usually about 15 different recipes to choose from. The best part is that often no additional money will be going towards shipping. The only exception is a 2-person plan with 2 meals per week.
With Chefs Plate you have many options that allow you to customize the meals that you will be getting week after week. Because of this many of your selections can change and be different for each week, however, there are both meat and vegetarian-friendly options for everybody. You can also choose the family-friendly option which will guarantee that everybody behind the table will be enjoying whatever you will get in your next delicious meal delivery box.
How to get Chefs Plate discount code
You can start getting Chefs Plate discount codes right from the beginning. Chefs Plate is very generous to new customers interested in their food and meal delivery service. While this is a great way to broaden their market it is also a great opportunity for many interested in their services to get many Chefs Plate discount coupons.
You can also get your hands on many Chefs Plate promo codes through their newsletter. Lastly, we would like to remind you that there will always be plenty of discount codes and coupons waiting for you here on the Kodino website. Because of the many options, you will never have to be worried about how to get Chefs Plate discount codes.
How to use Chefs Plate discount code
Using your Chefs Plate discount code is both simple as it is rewarding. Below we will add an image that will give you further assistance, however, to begin, you must first start your order. On the order screen, after you have finished making all of your choices you can just type in your discount code and click on "Apply" to save some money.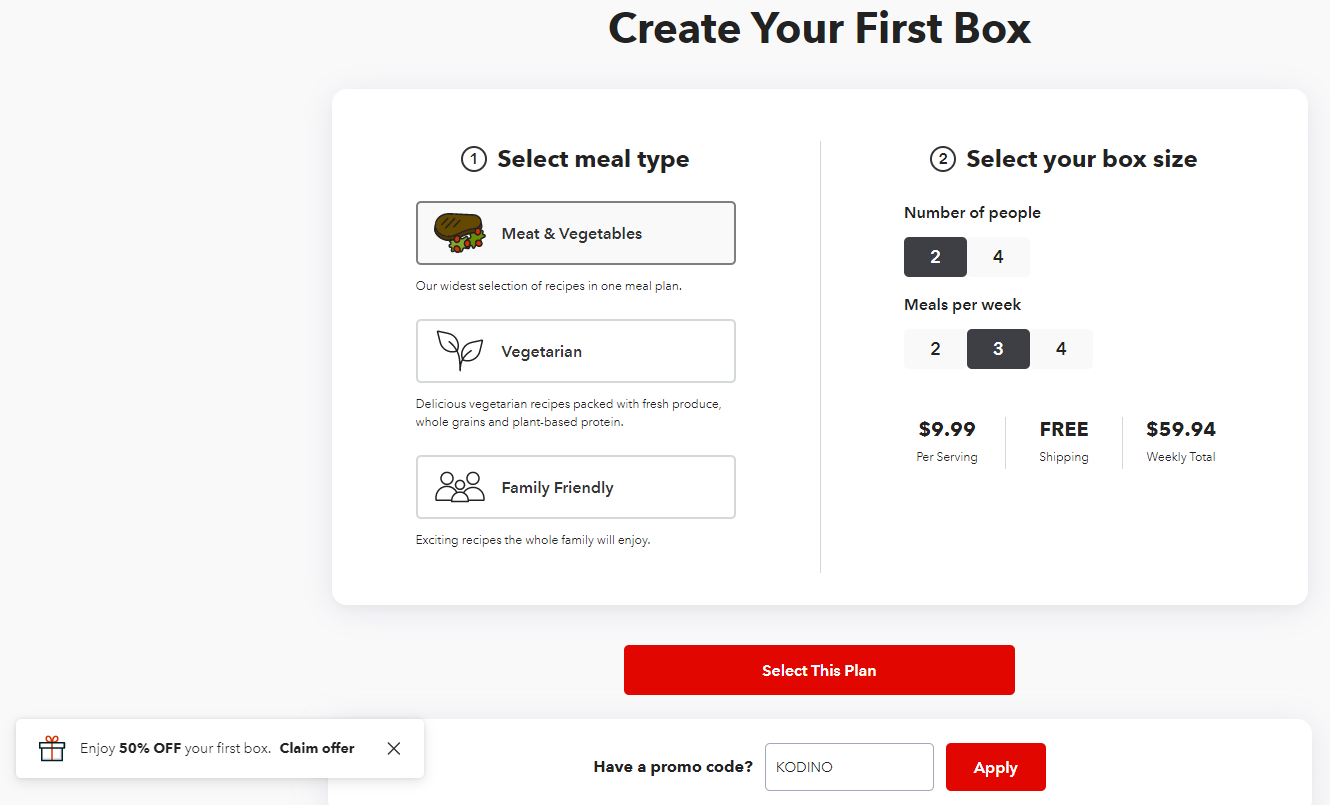 Chefs Plate Cashback
Cashback is a great service allowing the customer to receive back a nice sum of money from their purchases. You can receive cashback by signing up to cashback websites that help you with this process. Generally, you will use the cashback website and complete your order through their cashback link, which in turn will allow you to receive your money back.
There are plenty of cashback websites providing you the chance to receive Chefs Plate cashback. The most value can be gotten from TopCashback, however, there are very generous offers also from Great Canadian Rebates, Swagbucks, and Rakuten. With all of these cashback websites, you can get almost $10 if not more of your total costs back.
Chefs Plate discounts and how to save
You can start saving from your very first box with the many Chefs Plate promo codes offering you great discounts on their website. You can also find many Chefs Plate discount codes after subscribing to their newsletter. So far, these are the primary methods of how you can save and get any Chefs Plate discounts for your meal plans. You can also take advantage of cashback which will make enjoying your meals more rewarding after they reach your doorstep.
Chefs Plate contact – e-mail address, contact number, contact information
There is not a wide range of Chefs Plate contact information, however, that makes it only easier to choose how you should contact them. Chefs Plate has social media, however, they seem to be currently only on a few specific platforms. Currently, there is also no Chefs Plate e-mail address to use for any information or questions that you might have concerning your order or any other Chefs Plate related topics.
Luckily though, there is a very detailed FAQ section where many of the potential problems have detailed answers and solutions if you were to ever experience them. However, if that is of no help to you, please be sure to use the Chefs Plate contact number (1 (855) 420 2327),  to get more detailed instructions and the support that you need.