Brain Sensei review
Brain Sensei is an e-Learning service that will help you prepare for your PMP or CAPM Exams. Brain Sensei will allow you to learn for these exams in a more fun and interesting way. Brain Sensei offers story-based courses that will make you absorb the learning content easily and effectively.
Brain Sensei courses are taken online which can be an advantage. You can take the courses from the comfort of your home and learn at your own pace. The PMP course offers 35 hours of content and the CAPM course offers 23 hours of learning material.
How to get Brain Sensei discount code
All the currently available Brain Sensei promo codes or Brain Sensei discounts can be found here at our Kodino website. You can find here Brain Sensei discount coupons that will usually allow you to get up to 10% discounts. With these discounts, you can save money on your purchase of Brain Sensei courses.
Furthermore, Brain Sensei offers a 10% grant to both active and retired military members. Sometimes, Brain Sensei can even offer the military members a scholarship covering the full price of the course. To get the discount coupon for military members, you need to contact them with some information about your rank, a picture of you in your uniform, and a brief write-up about how your future plan with the qualification you will get from the Brain Sensei course. Brain Sensei will also include your photo and information on their website to inspire others in their learning.
How to use Brain Sensei discount code
The Brain Sensei discount code can be used at the checkout, where you purchase the course. Before you enter your billing details, all you need to do is to enter the Brain Sensei promo code into the field coupon. Look at the following image to see where to apply Brain Sensei discount code.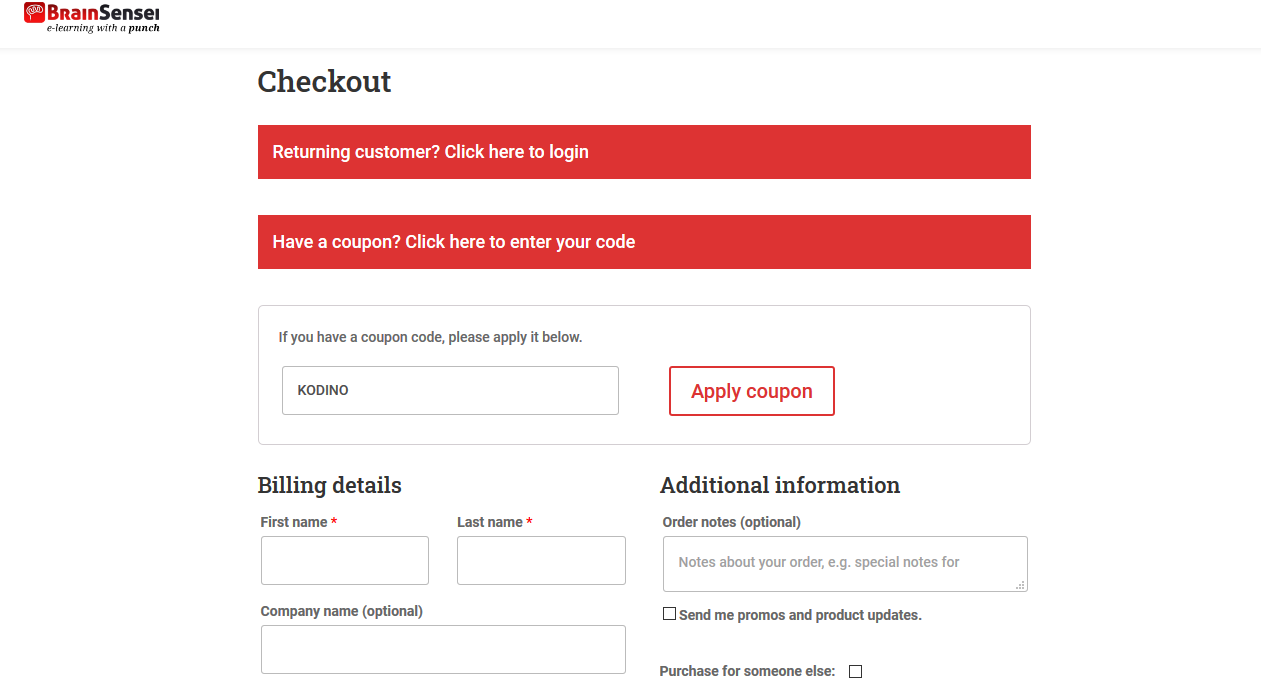 Brain Sensei Cashback
Cashback websites offer you a service that will give you back some percentage of the money you spent on your purchase. To get some of your money back while shopping online, you need to enter the online store's or service's website through a cashback website and then make your purchase.
Unfortunately, there are currently no available Brain Sensei cashback offers. However, keep in mind that cashback can be a great way of saving money when shopping.
Brain Sensei discounts and how to save
While Brain Sensei does not offer many discounts because they price their courses competitively, there are still many ways you can save money. First, there is a free trial that will allow you to try the service for free. You can decide after trying it, whether you would like to purchase the course or not.
Furthermore, the Brain Sensei discount for military members that we have mentioned here, is another great way to save money. Apart from that, Brain Sensei discount codes are sometimes available for the customers who purchase the course for the first time. Finally, with Brain Sensei cashback you can earn back some money.
Brain Sensei contact – e-mail address, contact number, contact information
If you have any questions regarding Brain Sensei´s service and wish to learn more about the available courses, about how the service works, or if anything is unclear, you can click on the Help icon on Brain Sensei website. After clicking on the icon, a window with frequently asked questions will appear. There, you can search for the answer by using keywords related to your question.
However, if you wish to contact Brain Sensei directly, you can use the contact form on their website. The contact form can be found by clicking on the Help icon. Afterwards, you need to click on Contact us where you will be able to ask your question directly.