Boston Pizza is a food service that delivers and offers a huge repertoire of food items such as delicious pizzas, pasta dishes, salads, beverages, and much more. Boston Pizza offers various means of getting the food to you including curbside pickup, home delivery, and more. Besides delivering the food, Boston Pizza is one of the leading restaurants in assisting customers with patio arrangements. Patios are great for bigger events and social gatherings in need of celebrations, and the best part is that they can make enjoying the food you eat all the greater.
During this Boston Pizza review, we will discuss how to enjoy your Boston Pizza experience to the max. Among the topics that we will cover we will focus a lot of attention on minimizing costs while not losing any of the distinctive qualities and food items that you have come to expect when going out to eat or ordering food to your doorstep. Learn more about Boston Pizza and how you can enjoy Boston Pizza's pizza (and other food items) cheaper and easier than ever before.
How to get Boston Pizza discount code
Join the Boston Pizza loyalty program, otherwise known as MyBP. With MyBP, you will have access to a brand new world filled with exclusive Boston Pizza offers and benefits. Receive free food items, content discounts, free additional toppings for your pizzas, unique discount coupons, special offers, and much more with MyBP.
Also, you can carry all of your MyBP information with you by downloading the Boston Pizza app available for mobile devices. With the mobile app, you can make an order on the go and enjoy your MyBP membership to the fullest. As such, grabbing a pizza can become a very rewarding and satisfying experience with all of the additional MyBP luxuries awaiting you at Boston Pizza.
How to use Boston Pizza discount code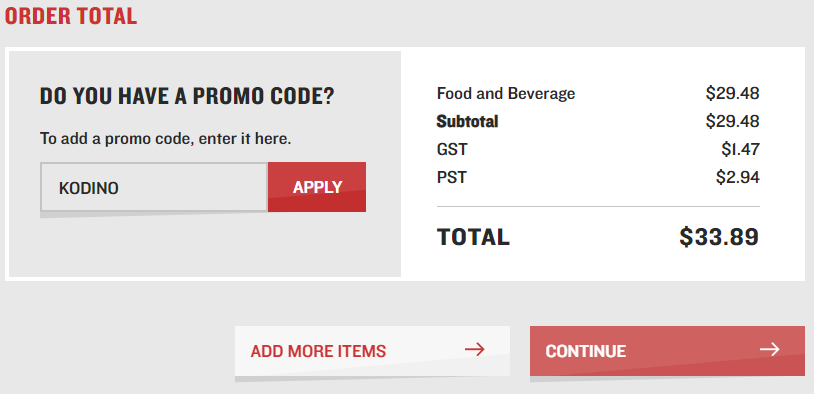 To apply the unique promotions and discounts that become available to you either via the MyBP program or by any other means can be hard to figure out. Luckily, here on Kodino, we will help you out. Check out the image above and the description below to learn where you can apply most promo codes to unlock amazing Boston Pizza discounts and benefits.
By choosing a restaurant or delivery address of your choosing you can start ordering your food. Adding items to the shopping cart is the first order of business. Once you feel like you are done you can go ahead and proceed to checkout. Next, simply resist the temptation of adding any unnecessary items into your cart and scroll down the checkout page until you see the total sum of your order. On the left of your total, you can insert a code for discounts and bonuses and in doing so you will apply all the bonuses of the code to your order. To confirm that you are at the right location, view the supplementary image we have added in the upper section of this subsection.
Boston Pizza Cashback
Cashback is a unique promotion that can allow additional opportunities for customers to save money. Eligible cashback offers are most often provided by cashback websites. A cashback is most-typically a specific sum of money that was paid alongside a completed order. Therefore, in short, cashback websites make it possible to earn money you just spent back.
Alas, right now it is impossible to earn cashback with Boston Pizza orders. We welcome you to come back and check this section regularly for changes. For now, the best advice that we can offer is to make the most of every other promotion and discount offered to you at Boston Pizza.
Boston Pizza discounts and how to save
The easiest way to find discounts and saving opportunities at Boston Pizza is at the "Promotions" section. The promotions section can be accessed directly from the Boston Pizza's homepage. Among the popular discounts available at Boston Pizza you can find deals for 50% off different types of pizzas, lower starting prices on different types of dishes, and much more.
Besides that, many MyBP members can enjoy additional rewards at Boston Pizza by redeeming their spendings into earnings. Spending gains can be redeemed for Boston Pizza Coupons , free food items, and delivery reductions. Enjoy Boston Pizza to the max with exclusive member-only MyBP Rewards or the special Promotions that are available for everyone.
Boston Pizza contact – e-mail address, contact number, contact information
Have a problem and need help from a professional. Simply contact Boston Pizza customer support with the methods that we include in this article. For your convenience we have added the most simple means of approaching customer support:
Boston Pizza contact number

: 450-687-2004

Boston Pizza e-mail contact

: Submitting a form on the Boston Pizza website under the "Contact Us" section

Boston Pizza

FAQ
You are also welcome to come and discuss important matters at a local Boston Pizza restaurant near you. Before the end, we would also like to inform you that you can follow Boston Pizza on social media. You can always find them active on the following platforms:
Facebook
Twitter
Instagram
YouTube