Blurb is a perfect location for creators and shoppers alike. If you are involved or looking for wall art, photo books, trade books, magazines, or printing, Blurb is the perfect destination for you. In this Kodino review, we will dive a little deeper into the services and saving opportunities available at Blurb. If you are interested in this store and its goods and services, we invite you to read further and become an expert concerning everything Blurb.
With a reasonable pricing system, Blurb offers something for everybody. If you prefer to go for more grandiose designs of photo books or are looking for something simple, Blurb offers both and a lot more. We will also introduce the shipping details and return or cancellation policies of this store. Learn how to stay cost-effective and resourceful when shopping at Blurb.
How to get Blurb discount code
The quickest way to start saving at Blurb is with a newsletter subscription. First-time subscribers receive a 35% discount upon registration. Use the chance and save big at Blurb. However, you may also discover even greater ways to save at Blurb by reading some other sections of this review including the ones about sales and cashback.
You can also find plenty of useful discount codes and coupons here on Kodino. We share with you all that we can find as long as it works. The deals we share are tested so you can rest easy knowing that they will work. Our database receives frequent updates and new information is constantly added as it becomes available.
How to use Blurb discount code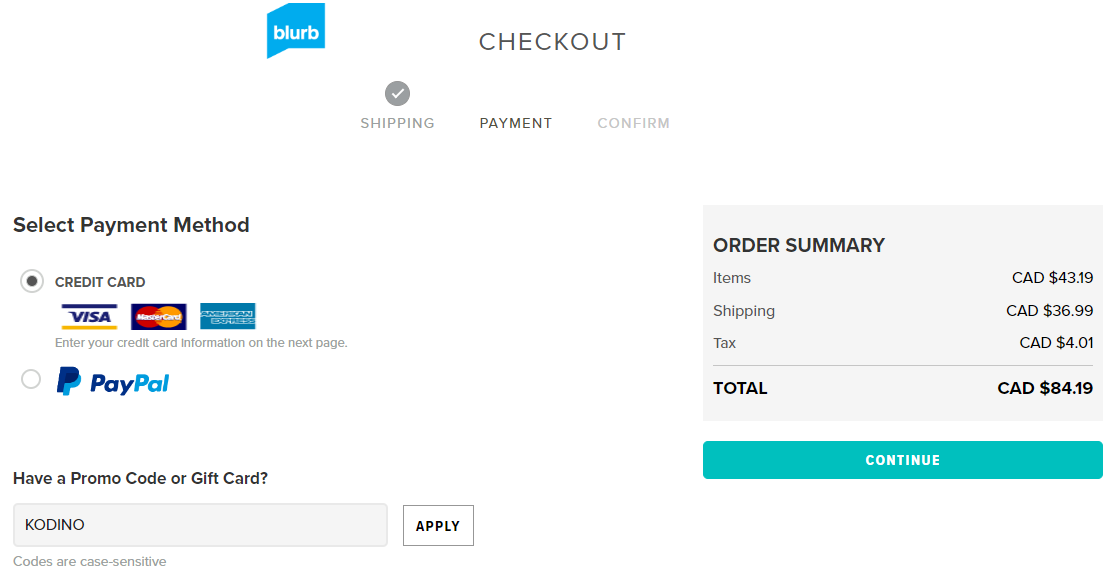 Promo codes are an effective method used by many to save money at Blurb. Discount codes can be applied to Blurb orders with an account. Therefore, if you have a Blurb account you must use your login information to sign in prior to making your purchase. If you do not have a Blurb account or login details, you will be asked to enter an e-mail address upon which you will be instructed to create a new Blurb account. After creating your account you can always use the same Blurb login details to sign in, purchase Blurb goods, and manage your past and ongoing orders.
You can apply promo codes during the same step when you are asked for all the necessary payment details. Therefore, we recommend adding promo codes before proceeding any further. There is a special box made just for gift cards and promo codes. You can type your codes into the box and click on "Apply" to receive the benefits of your code. We will also include a supplementary image which will act as a visual representation and aid in finding the exact location for promo codes.
Cashback Blurb
Cashback is an effective method to increase the typically allowed limitations of 1 discount code/coupon per order. As such, with cashback the possibilities available to you to save some extra money are doubled as you can apply an additional cashback deal to the purchases that you make online. Cashback websites are shared, distributed, and managed by cashback websites that will help you with most of your cashback-related dealings. Cashback is usually a precise sum that can be obtained back from your order's total and here on Kodino we will share with you some of our findings on currently available cashback offers.
Here are the latest details for Blurb cashback opportunities. Currently, the only cashback website to have available deals is TopCashback. Use their offer to earn up to 3% of cashback from the total sum of your Blurb purchases. Do not miss this chance to save extra with cashback.
Blurb discounts – sales, offers, Black Friday, …
You can find the biggest Blurb pricing reductions and discounts during Black Friday and Cyber Monday. Therefore, this is the best time to also save some money at Blurb. Save up to 50% off during Blurb special sales. During rare occasions, Blurb may also send out extra free gift items with orders above a certain price point. Generally speaking, most sale information is available on the Blurb homepage.
Blurb also promotes plenty of their creators with free online events and special discounts. You can learn more about these by following Blurb on social media. You can learn more about Blurb's social media presence under the contacts section of this Blurb review. Use the opportunities and find extra promo codes and more free content on Blurb social media newsfeeds starting today!
Blurb free shipping and shipping cost
At Blurb, there are many available methods for delivery and tracking. You can check the methods available in your region with the shipping calculator feature on the Blurb homepage. Simply find the shipping section and enter the necessary details for a listing of all the available options. Many factors may influence the end result of the delivery costs such as the remoteness of the location as well as the size of the order. Here are the most common shipping methods available at Blurb:
Tracking is usually included automatically with every Blurb order. Therefore, shoppers can freely follow the journey of their package all the way to their doorsteps. Blurb also allows drop-offs to P.O. boxes. Blurb free shipping is sometimes offered through special sale events and promo codes.
Blurb return policy
Ebooks and digital content from Blurb are non-refundable. However, Blurb does offer its customers a 30-day cancellation/return policy exclusive applicable to printed books. Additionally, the option to cancel the order before everything gets finalized is left open for approximately an hour after its completion. You can find more specifics regarding returns and cancellations on the Blurb Return Policy page.
Unless the item arrives with defects, Blurb will in most other cases not accept any returns. Generally, most issues can be easily solved and Blurb will ensure that you will receive either a refund or replacement for the defective item. Also please note that certain items from Blurb may arrive with minor variations and this is completely normal and not a valid reason to request a replacement or refund of any kind. Usually, Blurb strives for consistency, however, sometimes the differences may appear to be more noticeable than others. The biggest differences usually involve the color fidelity or the type of binding used on the book.
Blurb warranty 2023
Blurb warrants that items will arrive free from any material and/or workmanship defects. Therefore, it is highly advised to check your order for any possible mistakes as soon as it arrives. If there is an issue, Blurb promises to solve the issue at its own expense. In such a situation, Blurb's customer support should be contacted as soon as possible but usually, a gap of 14 days since receiving the item is granted for notifying visible or existing problems with the item.
If you have any other questions regarding returns and defect coverage you can feel free to get in touch with Blurb's customer support team. They will do their best to help you in any way possible. You can find all the contact information in the following subsection of this Blurb review.
Blurb contact – e-mail address, contact number, customer service
Unfortunately, Blurb does not offer phone support. Therefore, the most direct way to get in touch is through e-mail. You can use the contact form to send your e-mail whenever it becomes necessary. We will provide the link to the form and other useful materials when conducting business and purchasing from Blurb. Here are the details:
You may also find it useful to check out Blurb on social media channels. Most notably for any additional promo deals or sale information. A list of some of the main social media platforms used by Blurb is included in this subsection. Check out Blurb on the following social media platforms:
Facebook
Twitter
Instagram
Pinterest
YouTube