BitDefender is a company specialized in antivirus software. Since cybersecurity is very important topic these days, here we offer you some tips how to save money on BitDefender. 
There are several ways that can help you save money on BitDefender. The very first one you will see is the first year discount that is shown within purchasing. Also it is good to take advantage of 90 days free trials thanks which you can try if the antivirus is the right choice for you. BitDefender also uses discount coupons that you can find on the internet, in games or special offers created by the dealer on its social network sites or, of course, on our site.
How To Get a BitDefender Discount Coupon
As stated above, you can find BitDefender discount coupons upon special offers or games that Bitdefender creates on its social networks time to time. Also you can search for them on the internet or check our site for fresh coupons every day.
In games on social network, you can win better coupons but you get a discount code BitDefender just for playing the game.
How To Use a BitDefender Discount Coupon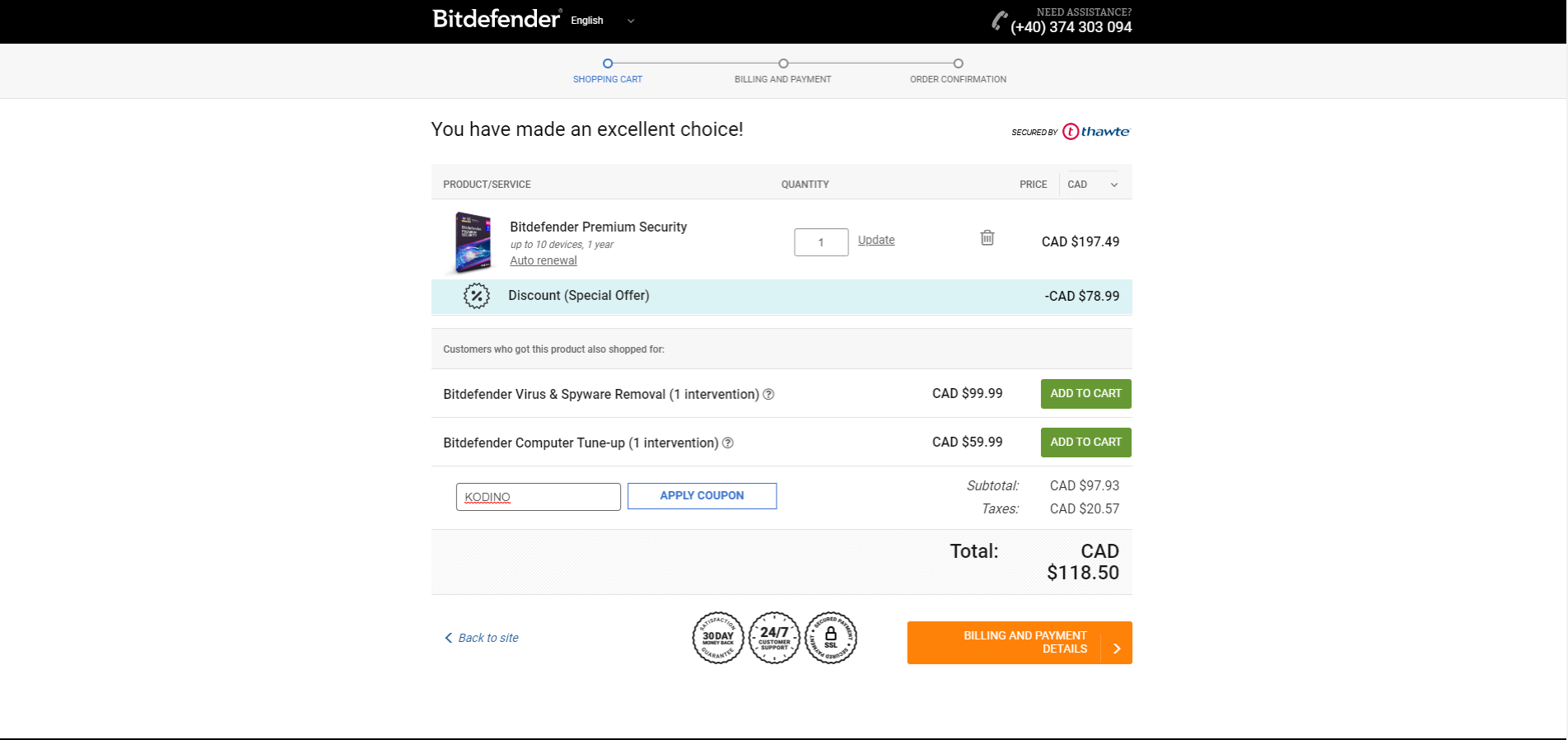 BitDefender Discount Coupon can be redeemed right in the cart. Just click on the highlighted question "Do you have a discount coupon?" and respective field will appear. After entering the discount code, click on the Aplly Coupon button.
If you meet preconditions for using the coupon, the discount will be immediately subtracted from the purchase price.
Cashback BitDefender
Sites like casbackholic.com offers up to 20% BitDefender cashback. Just register on the site, use its links for accessing the BitDefender page and complete a purchase. Once the purchase is done, the cashback will be sent to your account on the casback site.
Cashback is very popular way that can help you save money. It is a kind of affiliate marketing where a mediator offers dealer's goods on their own site. In the case that you complete a purchase via mediator's sites, a dealer gives him a commission from the purchase and the mediator refunds part of the purchase price to your account on their site. You can then withraw it to your bank account or use it for other purchase.
BitDefender Discounts – Sales, Black Friday, The Cybersecurity Awarness Month
The first BitDefender discount you can notice on the Bitdefender site is the "First Year discount". This discount is shown next to the purchase price before and after adding goods to the cart. As the name suggests, it is a discount for the first year of using the Bitdefender software.  Before buying some antivirus software do not hesitate to take advantage of 90 days free trials so you can test if the software is the right choice for you.
Other BitDefender discounts are usually offered within special occasions like Black Friday, New Year or in October which is the National Cybersecurity Awarness Month (NCSAM). They often come with various games, where you can win even higher discount. Discounts are either announced on Bitdefender's social networks or on its website. Point mouse cursor over the Home tab on the site and a menu will appear. Top right you can see all current special offers.
BitDefender Free Delivery and Postage Price
Since most BitDefender are in form of a digital licence, free shipping  is a matter of course. However, you can order some products that are not delivered digitally. In such a case, the shipping is free but there can be taxes involved depending on country's policy.
You can find the list of available countries in the shopping cart.
BitDefender Return and Refund Policy
Bitdefender offers a 30-day money back guarantee. To request a BitDefender refund, you have to find your order via a form. Then use the Request a refund option. The refund will appear on your account from 5 to 7 business days after the request.
If you purchase non-digital product, there is a one year warranty period within which you have a right to get a refund and return the goods.
BitDefender Complaints 2023
There are various ways to send a BitDefender complaint. The first one is to contact the customer service via a form. You can also call for assistance at (+1) 647 955 1197, (+1) 647 847 3405 which are available 24/7. You can also try to contact the seller via a chat on its social networks.
Complaints are handled immediately and the seller will tell you everything to solve your problem.
BitDefender Contacts – Email, Phone, Customer service
As stated above, you can use Canadian infolines: (+1) 647 955 1197 and (+1) 647 847 3405. Also you can use BitDefender e-mail customerservice@bitdefender.com or above stated form. If you prefer immediate answer, you can use a chat on one of the Bitdefender social networks or seek answers on the forum.