Backcountry is a store perfect for people who enjoy going out into nature. Backcountry offers everything necessary for a good hiking or camping trip as well as all the necessary gear and equipment for most outdoor activities that include gear for skying, surfing, fishing, and more. Also do not forget that they offer an incredible selection of clothing for men and women that are stylish, made for adventure in the great outdoors, and designed to provide you with comfort and joy while wearing it.
Want to learn more about Backcountry and how you could potentially save when shopping at their e-shop? You have come to the right place as we will discuss all the important ways of saving money and much more. Learn how to save and prepare yourself for your next adventure with Backcountry.
How to get Backcountry discount code
If you are looking for Backcountry discount codes and coupons, please check out to discount code section on Kodino, right above this article.  Here on Kodino we always try to keep you informed about the latest deals available at Backcountry. You will also learn more general information about everything that Backcountry offers. Furthermore, you are advised to download the free Backcountry app that may help you find great deals, too.
Beyond that, there are a couple of other ways to find some Backcountry discounts and promotions. The simplest way is to sign up for the Backcountry newsletter. However, do not forget to look at the many items on sale by visiting the sales section of their website.
How to use Backcountry discount code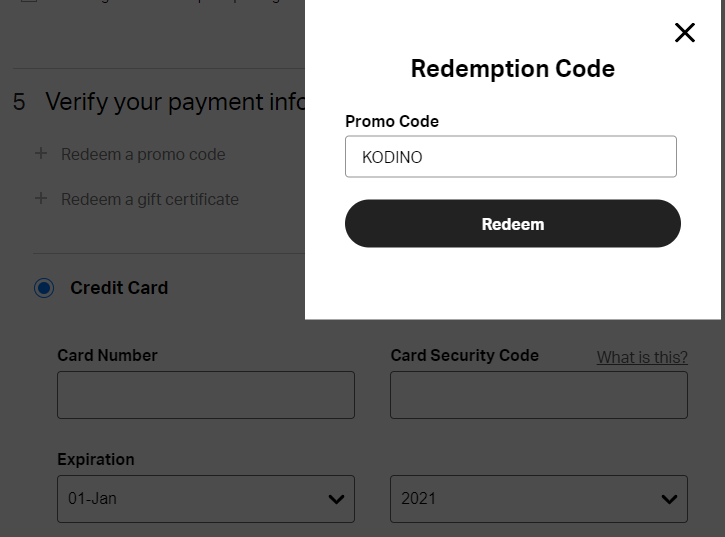 Figuring out how to use Backcountry discount code can be a little complicated. However, do not worry because we will tell you exactly how to apply your exclusive code. To get started, put all the items you wish to buy into your shopping cart so that you can enter the checkout screen where promo codes can be applied.
Once you are at the checkout screen, start filling up the information. At number 5 you will be asked to verify payment information. Before adding your credit card information, click on "Redeem a promo code" and type in your code into the newly appeared window.
Cashback Backcountry
Cashback is a unique way of saving money while shopping online. It works based on partnership of stores with cashback websites that forward exclusive deals to users who have signed up on their website. After signing up, the members will be able to earn back a percentage of the money they spent at the store if they follow the instructions given by the cashback website.
Currently there are a few cashback websites through which you can earn a Backcountry cashback. Rakuten, TopCashback, and Great Canadian Rebates all offer wonderful opportunities to save money at Backcountry. Sign up on one of these cashback websites and start earning your Backcountry cashback.
Backcountry discounts – sales, offers, Black Friday, …
As mentioned above, there are many Backcountry sales that you can easily find and explore on their website. However, Backcountry is well-known for its Cyber sales as well as their After Christmas sale. Save quite a lot of money by visiting their shop during the holiday season.
Exclusive prices and deals are also offered to community heroes. That is to say that if you are a nurse, medical provider, hospital worker, teacher, military member, or veteran then you are rewarded with a 20% savings deal as a thank you for your services. You can learn more about how to gain access to this discount by visiting the Backcountry website and going under the Special Group Offers section.
Backcountry free shipping and shipping cost
You can try finding a Backcountry free shipping discount code if you wish to reduce the expenses of your international shipping costs. For orders made within the US, it is actually quite easy to get free shipping with Backcountry. All you have to do is make sure that your order is above $50.
The types of shipping offered at Backcountry include the following options:
Economy
Standard
Two Business Days
Next Business Day
The above-mentioned Backcountry free shipping received by purchasing for more than $50 can be applied for the Economy and Standard types of shipping. Visit Kodino and Backcountry's official website more frequently to see when options for Backcountry free delivery become available also for international customers.
Backcountry return policy
The Backcountry return policy does not specify the number of days that are allowed to pass before a return. However, they do specify that if the item is used, the product must be returned within 30 days of delivery. No such restrictions are placed on new/unused product returns.
Remember that new or unused products can be returned for a refund following the example of the original payment or in the form of store credit. On the other hand, when returning used goods, refunds will be compensated in the form of store credit. For more information about returns please refer back to the Backcountry return policy. However, if you feel that the product has a defect in its material or workmanship you are advised to contact Backcountry's Warranty Department.
Backcountry warranty 2023
To state your rights for a Backcountry warranty claim make sure to contact Backcountry Warranty Department as soon as possible. Also, make sure that the issue you are having with the product falls under the guidelines specified under the warranty section of Backcountry's return policy. Here are the contact details needed to claim your Backcountry warranty:
In your e-mail or phone call do not forget to go into further details. For instance, it is quite important that you clearly explain the issue and provide important information such as the date of purchase, order number, and the brand of the product. For further details about the Backcountry warranty and its limitations, means of resolution, and more, please refer to the Limited Warranty section available on the Backcountry website.
Backcountry contact – e-mail address, contact number, customer service
If you need assistance, feel free to get in touch with the Backcountry customer service either via the Backcountry contact number, or Live Chat:
Phone number: 1-800-409-4502
Live Chat can be accessed from the bottom left corner of their homepage
There is no general e-mail address that can be used to get in touch with Backcountry customer service. However, if you are claiming for warranty we have provided the e-mail address that you can contact for warranty-related inquiries.
You can also try using social media as a way to communicate with Backcountry. They can be found on the following platforms:
Facebook
Twitter
Instagram
YouTube
If you happen to have a problem, do not hesitate and contact Backcountry immediately in any of the ways described here in this article.