Avis review
Avis is a car rental company that has a wide selection of rental cars to choose from. Avis is available in Canada as well as worldwide. You can find Avis in more than 5,000 locations and more than 165 countries.
Avis offers everything you might need on your travel including child safety seats, navigation system, commercial-free music service, international calling and more. There are additional services available as well. Avis' convenient car rental fuel plan will make your trip easier. Learn how to save at Avis with Kodino, because many great deals waiting in this Avis review.
How to get Avis discount code
Avis offers a multitude of different types of deals and discounts. You can always find available Avis discount codes quickly and easily on Kodino or you can look for them on Avis' website. Furthermore, you can subscribe to Avis' newsletter to get more information about new deals and discounts.
However, in case of many Avis discounts, you do not even need an Avis promo code. You can find many of such deals in form of Avis discount coupons here on Kodino. With such coupons you can, for example, save up to 30% on economy and luxury car rentals during weekends.
How to use Avis discount code
If you are wondering where to apply Avis discount code just follow a few simple steps. First, choose the pick-up and return location on Avis' homepage. Then, click on the tab that says "Discount Codes" after which you will be able to type in your Avis discount code.
Fill up all the information including the rental dates and continue to the car selection. After choosing your car you can finish your order and enjoy the reduced price.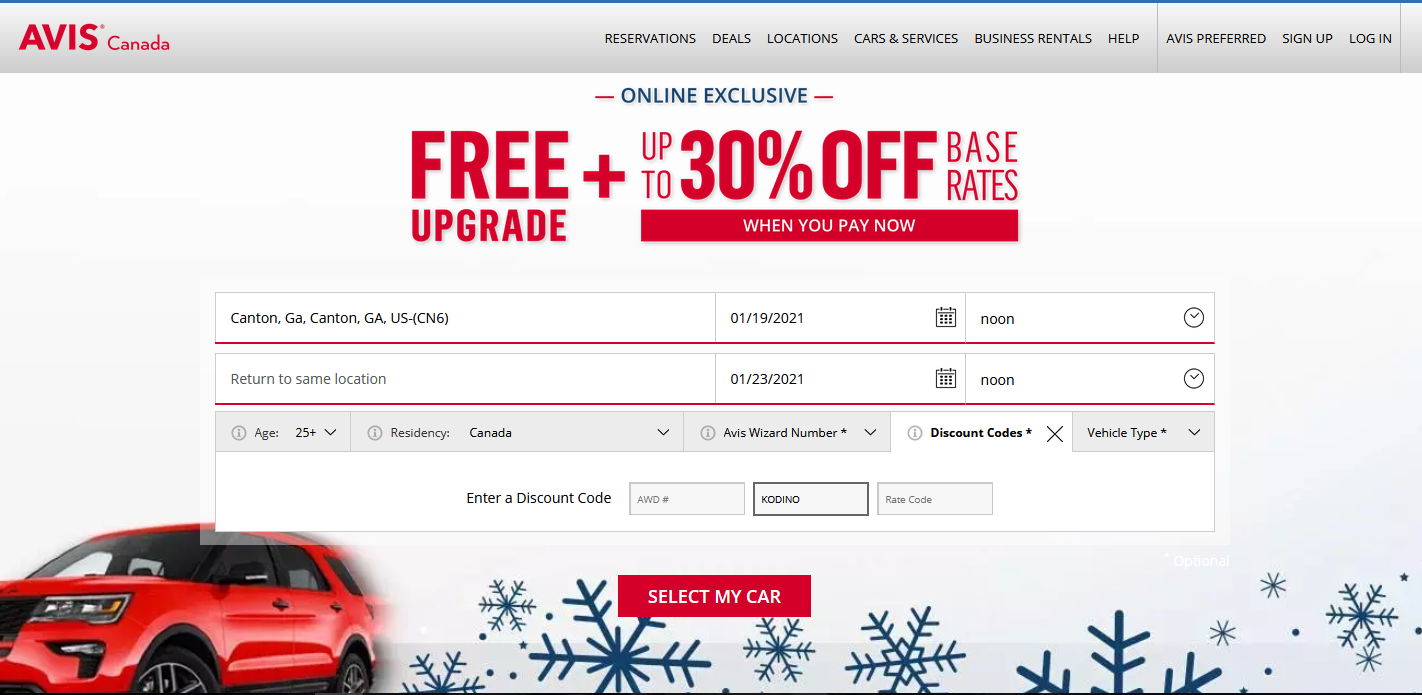 Avis Cashback
Cashback is a system that helps you save money when shopping online. Choose a cashback website that offers the deal that you are looking for and after making your purchase through it, you will get some of your money back. Using cashback can be rewarding when seeing your money return on a regular basis.
Save money with Avis cashback when renting a car next time. Rakuten offers 2% cashback. To save a little more, you can use TopCashback which allows you to save up to 3%.
Avis discounts and how to save
One of the easiest ways to save at Avis is to pay attention to new Avis discount codes that will enable you to enjoy many great deals. The benefit of Avis promo codes is that they are generally available for new as well as existing customers.
Some specific Avis discounts are available for local car rentals, monthly rentals, or one-way rentals. You can find more information regarding discounts on Kodino or Avis' website in the "Deals" section. Furthermore, the higher the price of your car rental is, the higher discounts you can get.
Avis – e-mail address, contact number, contact information
There is a lot of useful Avis contact information that you can find here if you have any questions or issues you wish to solve. When calling from Canada you can use the following Avis contact number to get more information on rates and make reservations: 1-800-879-2847. The customer service can be reached at  1-800-352-7900.
If you do not wish to contact Avis by phone, another option is to go to the "Customer Service" section on their website which includes a list of FAQ with answers. Furthermore, the website will redirect you to more information if you wish to send feedback to Avis, file an accident, or request a past rental agreement. If you are interested in subscribing to Avis newsletter, or cancelling your subscription, send an e-mail to Avis e-mail address: avisprivacy@avis.com.