Anjolee, the art of jewelry, sells diamond and gem stones jewelry. We will tell you, how to save money in Anjolee in the next few chapters, as well as their return goods policies and filing complaints.
You can find Anjolee only online. The store deals with only non-conflict diamonds.
How to get discount coupon in Anjolee
The first thing that appears on the page is a discount code Anjolee for 200 USD. You get the discount coupon Anjolee for registering your e-mail address. The store also occasionally offers percentage discounts on selected goods.
One of the ways how to get discount coupons Anjolee is to visit and check Kodino regularly, so you don't miss out on any interesting discounts.
How to use discount coupon Anjolee
Fill the discount code Anjolee in your shopping bag before completing the order. Simply choose the goods you want to buy, put them into the shopping bag and before completing the order fill in the discount code Anjolee. Ensure that the coupon applies on your chosen goods and is still valid.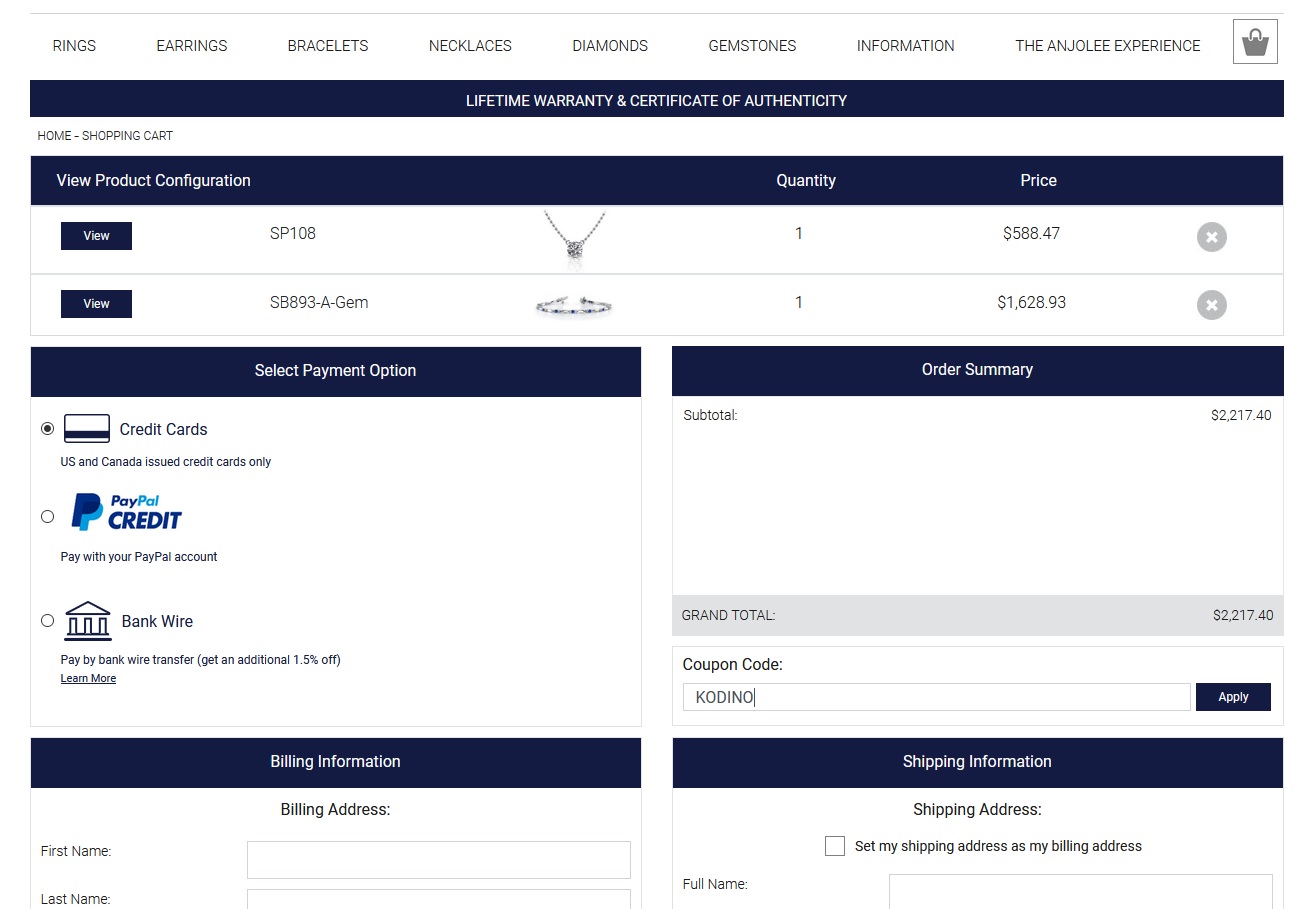 Cashback Anjolee
Anjolee cashback is offered by Cashbackholic up to 9.5% with a $5 USD bonus in certain servers.
Cashback is a service that allows you to save money while paying with your card either online or in physical stores. You get certain percentage offered by the websites of your purchase back, therefore you save money while shopping.
Anjolee discounts – sales, Black Friday…
The store offers Anjolee discounts occasionally for certain kinds of goods. Anjolee Black Friday promotion takes place the day after Thanksgiving. You can also find promotions or giveaways.
You can also shop and save during Anjolee New Year sales and save money on your jewelry.
Anjolee free delivery and postage price
You can get Anjolee free delivery only for goods shipped within USA. Otherwise you might be asked to pay $150 USD shipping for products mostly out of USA and Canada.
The store also notifies customers it needs about 4 days to manufacture the custom-made jewelry, so only then it can ship the items.
Anjolee return policy
Anjolee return policy states that you can return the good within 30 days of receipt. If the item is in original condition and not worn, Anjolee return policy also states you will get all the money back. If the item has been worn or is not in original condition, you need to pay 15% restocking fee.
To Anjolee return goods you need to notify the store either by e-mail or phone to get a Return Ticket ID. If you do not get the ID, then your goods will not be accepted for a refund.
For more information refer to Return and Refund policy.
Anjolee complaint 2023
For filing an Anjolee complaint you need to save your order number. You will be asked to fill in your oder number into the Anjolee complaint form. It will then take you to choose to return or to repair your item.
Anjolee contact – e-mail, phone number, infoline
You can reach out to Anjolee through following Anjolee contacts.
Anjolee phone number for customer service: 877-265-6533
Anjolee e-mail: service@anjolee.com
Or you can reach out to Anjolee via online chat on their website.