Ancestry.com review
Find out about your ancestors with Ancestry.com. By signing up to one of the service's membership programs, you will have an access to millions of Canadian family history records and much more. Choose from All Canadians Records, All Canadian & Key Global Records, or Everything on Ancestry memberships and start learning about your family's history by using the Ancestry.com database. You can search through birth, marriage, and death certificates as well as you can build and look through your whole family tree. Not only you'll find out where are you from and where your roots are, but you will also be able to locate your living relatives all around the world.
Ancestry.com is the only website that combines DNA results and the largest collection of worldwide records. Discover the world's largest collection of family trees or make a DNA test with 1000 ethnic regions at Ancestry.com. Continue reading our Ancestry.com review below to learn how to save at the service's website.
How to get Ancestry.com discount code
Ancestry.com website provides Ancestry.com discount codes mostly for new users but also on some special occasions throughout the year. There is a free trial available on the Ancestry.com website during which you can build your family tree as well as explore billions of detailed historical records. Take advantage of the service's referral program and earn a $10 Amazon gift card that you can use for anything you like on the Amazon website.
There is also an exclusive Ancestry.com discount coupon that will grant you a 30% off discount on All Canadian & Key Global Records or Everything on Ancestry memberships, the choice is yours. Get your Ancestry.com promo code now from the Kodino website and explore everything Ancestry.com has to offer.
How to use Ancestry.com discount code
Do you want to subscribe to Ancestry.com and find out about your ancestors for less money? Just choose one of the three memberships and the duration of that membership. You can either decide to subscribe for 1 month or for 6 months.
The next step is the checkout where you'll see an Ancestry.com discount code box. Apply your coupon and enjoy your discount.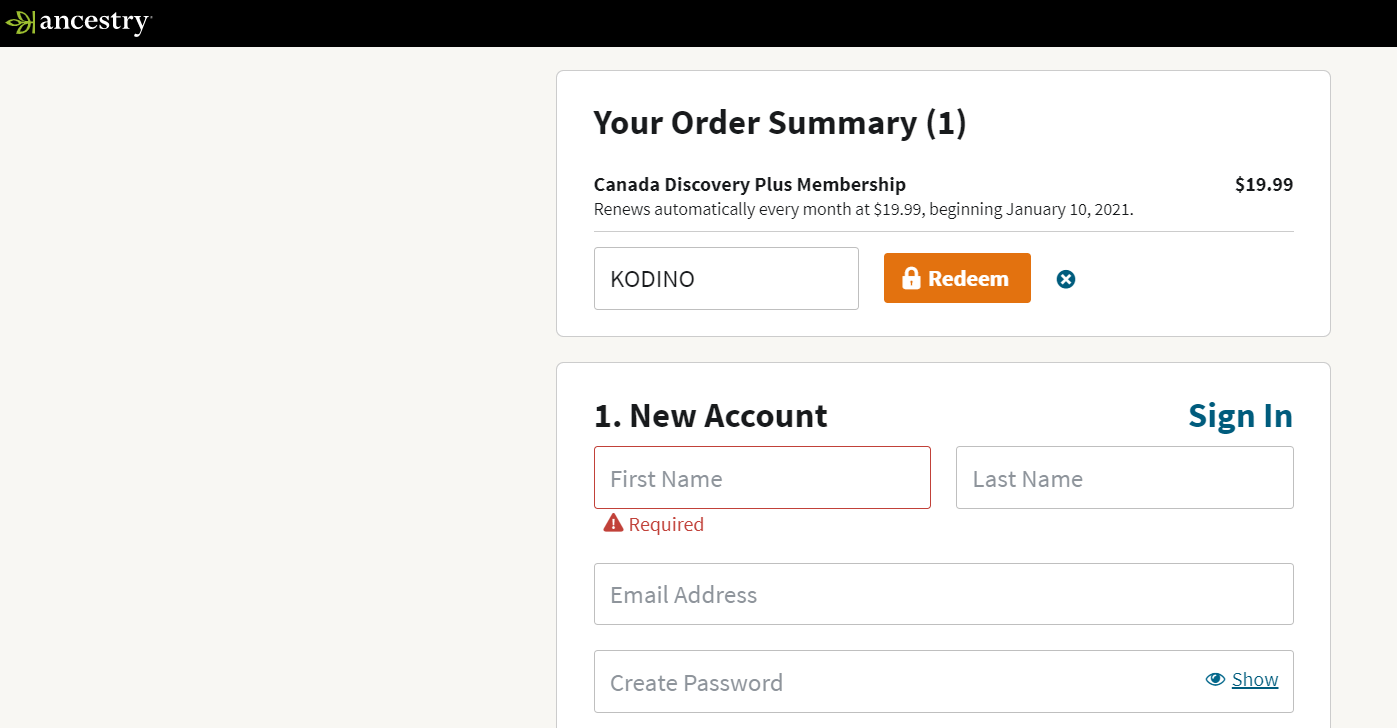 Ancestry.com Cashback
Earn great rewards with Ancestry.com cashback, a popular way to save money. Now you have an option to get up to 16.5% of your purchase made at Ancestry.com back and that's thanks to cashback portals. Take advantage of the cashback deals provided by portals Rakuten, Swagbucks, and Topcashback and start saving with Ancestry.com cashback.
Ancestry.com discounts and how to save
There are many options on how you can save on the Ancestry.com website. Discover the service's free trial for new users. The free trial lasts for 14 days during which you can discover your whole family tree and browse through millions of historical records. Another Ancestry.com discount is 30% off two types of memberships, the All Canadian & Key Global Records and Everything on Ancestry memberships.
You can also save by taking advantage of a referral program thanks to which you can get a $10 Amazon gift card and your friend a 40% off a membership Ancestry.com discount code.
Ancestry.com contact – e-mail address, contact number, contact information
Ask Ancestry.com customer service team anything you need to know. You can contact them by calling on Ancestry.com contact number: 1800 958 9073. If you prefer writing, here is the Ancestry.com e-mail address: support@ancestry.ca. Don't wait up and get all the information you need.